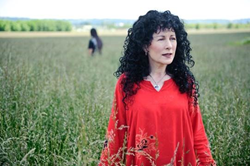 Those who attend this retreat will be experiencing something that can be implemented in their daily lives. When we realize the process is the journey, we can find peace in every moment.
Makawao, HI (PRWEB) August 04, 2015
Hawaii's leading retreat for the mind, body and spirit, Lumeria Maui, located at the gateway to upcountry Maui, unites its six-acre, award-winning destination with leading teachers and wellness professionals. Lumeria Maui is excited to partner with renowned mystic healer and author of Become an Earth Angel, Sonja Grace, to host her meditation retreat "Fusion of the Four Essential Bodies" Oct. 8, 2015 through Oct. 11, 2015.
Bringing her Essential Bodies retreat to Lumeria and Maui for the first time, Grace is thrilled to be working within the splendor of Maui's landscape as she guides participants through a series of deep, grounding meditation to restore balance to the mental, physical, emotional and spiritual bodies.
George Noory host of Coast to Coast AM and Gaiam TV's popular show Beyond Belief describes Sonja Grace as an energy surgeon. For over thirty years, Sonja's international clientele receives remote energy healing and deep emotional processing through her work with the four essential bodies. Through her Essential Bodies retreat, Grace will teach participants awareness of their energy through meditation, how to ground and connect to the earth, as well as how one can often misuse this energy by compartmentalizing various components of life.
Participants in "Fusion of the Four Essential Bodies" will experience ceremony to open and close this four day retreat. Grace will guide participants through a morning cellular yoga practice, followed by her signature grounding meditation. Grace's Native American heritage and spiritual reverence brings a life changing experience through guided deep mediation. Her loving energy supports the incredible processing that takes place as participants move each day into the fusion of the four essential bodies.
"We must understand that our four essential bodies are acting in concert together, and the imbalance that many people live with is centered on the emotional wounds of the past," says Grace. Her goal through Fusion of the Four Essential Bodies is to provide healing on all levels allowing for an experience of deep inner peace. "Those who attend this retreat will be experiencing something that can be implemented in their daily lives," Grace adds. "When we realize the process is the journey, we can find peace in every moment."
Continuing with this retreat, Lumeria Maui stands as one of Hawaii's premiere destinations for education and adventure for body and mind, featuring holistic experiences in diverse areas of wellness practices and arts. The design aesthetic incorporates the true spirit of Aloha, representing western and eastern cultures, and welcomes all people. The daily classes and guest offerings, contemporary furnishings for public and guest rooms/suites mixed with art, sculpture and a fine collection of crystal provide guests with mindful, consciously-integrated experiences.
Lumeria is committed to honoring Hawaii's heritage, culture and land and to integrating the property's design, programming and teaching into all aspects of the Lumeria experience.
Cost to attend Fusion of the Four Essential Bodies is $1,995 for a single-occupancy room or $1,396 per person for a double-occupancy room. All meals at the Lumeria Cafe, offering a truly fresh and locally-inspired cuisine through sourcing ingredients from Lumeria's farm and local Maui vendors, are included. Book your reservation for the retreat now by calling Lumeria Maui at (808) 579-8877.
For more images, please click here.
About Lumeria Maui
Lumeria Maui is Hawaii's leading retreat for the mind, body and spirit featuring holistic educational experiences, yoga, therapies and other age-old disciplines integrated with Hawaii's pioneering wave sports and adventure. At the gateway of upcountry Maui, Lumeria is close to world-renowned beaches, famous surf spots, and Maui's best biking and hiking trails. Lumeria's historic property, overlooking Maui's North Shore, is a beautiful sanctuary that awakens the senses and impresses an authenticity, beauty, love and creativity.
The cultural and spiritual practices of Maui are embedded into Lumeria's experience, from the farm-to-table menus at its on-site restaurant, Lumeria Cafe, to the healing treatments and therapies offered through the Crystal Spa. With a reverence for the land of Maui, Lumeria Maui is growing efforts to consistently engage the local island culture through partnerships and support of island residents. Connect with the majesty of Lumeria for a physical and spiritual restoration that will remain long after your stay.
About Sonja Grace
For over thirty years, author and Mystic Healer, Sonja Grace has been offering her international clientele immediate stability, clarity, and guidance. Sonja is an energy surgeon who works with the physical, emotional, mental and spiritual bodies. She helps clients process emotional wounds, clear karma and gain inner peace. Her new documentary Spirit Traveler is being filmed in England and you can follow her @spiritraveler on twitter. Her new book Become An Earth Angel: Advice and Wisdom for Finding Your Wings and Living in Service is available through Findhorn Press. Her companion film series 'Earth Angel' can be found on her website http://www.sonjagrace.com.