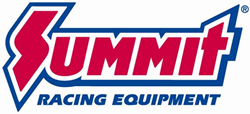 Tallmadge, OH (PRWEB) August 05, 2015
Rust is the enemy of frames and chassis parts. Summit Racing now carries Eastwood's' Chassis Paint and Coatings that will protect a vehicle's frame and suspension components from corrosion and keep them looking good.
2K Aero-Spray Ceramic Chassis Paint
Eastwood's 2K Aero-Spray Ceramic Chassis Paint lets the user apply a catalyzed epoxy finish without pre-mixing or using a spray gun. The paint can contains separate chambers of paint and activator. Push on the nozzle and the paint and activator are blended in the proper ratio. 2K Aero-Spray delivers a wide coating pattern and resists chemicals and abrasions. Choice of satin or gloss black finishes. Summit Racing also carries 2K Aero-Spray Epoxy Primer and Clear Coat.
Chassis Black Paint
Eastwood chassis black paint is a durable, high-solids and epoxy formula that resists corrosion, chips, fuel, brake fluid, solvents, and temperatures up to 300 degrees F. That makes it ideal for frames, suspension parts, floor boards, and more. Chassis Black Paint can be applied on bare metal, primer, or rust converter, and dries to a satin finish.
For vehicle restorers that need a really tough chassis paint, Eastwood's Extreme Chassis Black Paint has three times the resins and solids as regular Chassis Black, so it offers far better corrosion resistance.
Internal Frame Coating
It's the hidden rust —the stuff that lurks inside subframes, rocker panels, and other hard to reach areas—that will ruin a restoration. Eastwood's Internal Frame Coating features a phenolic resin to encapsulate rust and prevent it from spreading, plus a zinc-based paint/sealer to prevent future corrosion. The aerosol canister comes with a thin, 2 foot long hose with a cone-shaped nozzle for better access to small openings. The epoxy-type paint fully cures within 24 hours.
Summit Racing Equipment
http://www.SummitRacing.com
1-800-230-3030