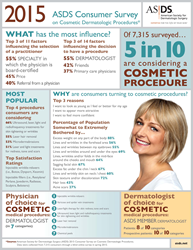 Rolling Meadows, Ill. (PRWEB) August 04, 2015
Half of consumers are considering a cosmetic medical procedure and the specialty in which the physician is board-certified is increasingly influential in their choice of practitioner, according to new survey data from the American Society for Dermatologic Surgery.
The 2015 ASDS Consumer Survey on Cosmetic Dermatologic Procedures reflects overall consumer views on cosmetic medical treatments and ratings for 10 specific procedures.
The survey underscores the value consumers place on physicians' distinct qualifications, with the expertise held by ASDS members proving especially resonant.
The specialty in which a physician is board-certified is the single most important factor when selecting a practitioner for a cosmetic procedure – more significant than cost, physician referral or eight other choices.
"Consumers are savvy, and they understand that the specialized training board-certified dermatologists receive makes them uniquely qualified to deliver the results they are seeking for their cosmetic procedures," said ASDS President George J. Hruza, MD, MBA.
For the third year in a row, dermatologists carry more influence regarding decisions to have cosmetic procedures than friends, physician referral or 11 other factors. Patients who had procedures favored dermatologists for seven of the 10 procedure categories, up from five in the 2014 survey.
"Patients turning to our members as their top choice for a growing number of cosmetic procedures is highly encouraging," Hruza said. "ASDS members are pioneers and leaders in the realm of skin procedures, and that is not going unnoticed by the public."
The majority of respondents in eight of 10 categories who had visited a dermatologist chose an ASDS member. And in all 10 categories, the majority of respondents indicated they would consider an ASDS member for a procedure.
The survey also supplied renewed insight into what compels consumers to seek cosmetic treatments. To a large extent, intrinsic motivations steer their decisions.
For the third straight year, the leading factors for pursuing treatments are the desire to "look as young as I feel or better for my age," "appear more attractive" and "feel more confident."
The procedures piquing the interest of the most consumers are designed to achieve those outcomes. The top four procedures respondents are considering are:

Ultrasound, laser, light and radiofrequency treatments for skin tightening or treating wrinkles, 66 percent
Laser hair removal, 55 percent
Microdermabrasion, 53 percent
Laser and light treatments to reduce facial redness or improve skin tone or scars, 51 percent
"Continued advances in medical technology and the ever-growing track record of success for dermatologic surgeons combine to make pursuing an array of minimally invasive cosmetic medical procedures an increasingly comfortable decision for patients," Hruza said.
The top cosmetic concerns for consumers align with areas of expertise for ASDS members:

Excess weight, 88 percent
Skin texture and/or discoloration, 72 percent
Lines and wrinkles around and under the eyes, 69 percent
Excess fat under the chin/neck, 67 percent
Sagging facial skin, 67 percent
Consumers give high satisfaction ratings to injectable wrinkle treatments and injectable filler treatments to soften facial lines and wrinkles and restore volume in the face. Those procedures are the two cosmetic treatments ASDS member dermatologists performed most frequently in 2014, according to the Society's member procedures survey.
"Simply put, ASDS members are the skin experts," Hruza said. "It is gratifying to see this year's survey results help drive home that point."
About the Survey
Data were obtained through a blind online survey conducted from April 30 to May 4 through the web-based Contribute service. The survey received 7,315 responses.
About ASDS
The American Society for Dermatologic Surgery is the largest specialty organization exclusively representing dermatologic surgeons who have unique training and experience to treat the health, function and beauty of your skin. ASDS members are pioneers in the field. Many are involved in the clinical studies that bring popular treatments to revitalize skin and fill and diminish wrinkles to the forefront. Their work has helped create and enhance many of the devices that remove blemishes, hair and fat, and tighten skin. Dermatologic surgeons also are experts in skin cancer prevention, detection and treatment. As the incidence of skin cancer rises, dermatologic surgeons are committed to taking steps to minimize the life-threatening effects of this disease. For more information, visit asds.net.
Follow us:
Website: asds.net
Follow ASDS on Twitter: twitter.com/ASDSSkinExperts
Become a fan of ASDS on Facebook: facebook.com/ASDSSkinExperts
Locate a dermatologic surgeon in your area: asds.net/findadermatologist.aspx
Contact:
Jay Schwab
Communications Manager
American Society for Dermatologic Surgery
jschwab(at)asds.net
847-956-9143