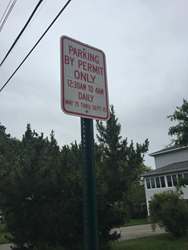 Point Pleasant Beach, New Jersey (PRWEB) August 03, 2015
New parking laws will please many local residents looking for a quiet weekend at the beach. The Borough of Point Pleasant Beach, New Jersey is making another attempt to improve parking restrictions for residents frustrated with late-night partiers by proposing a new oceanfront parking plan, since the appellate court cited last month's proposal invalid. According to an article published by NJ.com on August 3rd, a final vote for the ordinance is set for Tuesday's council meeting to decide what's next for the Jersey Shore town. Bielat Santore & Company is warning restaurant-goers to be aware of these potential changes.
The previous ordinance limited parking on certain streets between 12:30 am and 4:00 am from May 15th to September 15th to curb safety concerns. Patrons were encouraged to use the Silver Lake parking lot located on Arnold Avenue suspending parking fees from 11:00 pm to 6:00 am. Several business owners were not in favor of these barriers including boardwalk hotspots Jenkinson's and Martell's Tiki Bar who believed it would discourage customers; prompting the court to discard the request. The new proposal will award all residents and taxpayers in the affected area with five parking placards, exempting them from the parking regulations.
Affected areas include Arnold and St. Louis avenues to the west, the south side of Broadway to the north, Forman Avenue to the south and the Atlantic Ocean to the east. For more information, visit http://www.nj.com/ocean/index.ssf/2015/08/point_pleasant_proposing_new_oceanfront_parking_pl.html.
About Bielat Santore & Company
Bielat Santore & Company is an established commercial real estate firm. The company's expertise lies chiefly within the restaurant and hospitality industry, specializing in the sale of restaurants and other food and beverage real estate businesses. Since 1978, the principals of Bielat Santore & Company, Barry Bielat and Richard Santore, have sold more restaurants and similar type properties in New Jersey than any other real estate company. Furthermore, the firm has secured in excess of $500,000,000 in financing to facilitate these transactions. Visit the company's website, http://www.123bsc.com for the latest in new listings, property searches, available land, market data, financing trends, RSS feeds, press releases and more.