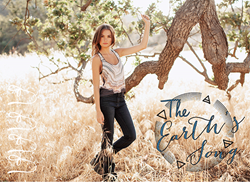 "Oneness has no size, shape or weight. Oneness is essence, creativity, purity, love, unlimited, unbounded energy." - The Mutant Message Down Under
Phoenix, AZ (PRWEB) August 05, 2015
Stelari introduces their new collection, The Earth's Song, inspired by the Australian Outback.
Stelari is reinventing yoga wear with their new line, The Earth's Song. Combining fashion and activewear, Stelari's new collection let's you take your bohemian chic style onto the street and into your workout. Inspired by the Australian Outback, this collection is sure to make the spirit seeker swoon with prints as meaningful as they are beautiful. Stelari tanks are made from recycled water bottles in the US, and are as soft and light as your favorite vintage tee.
Stelari's new collection of tanks come in five beautiful prints known as "Agate", "Circle of Life", "Let's Talk", "Boomerang" and "Rhythm Maker". These lightweight and soft Free Flow yoga tank tops let you move, sweat, and play in the yoga studio and on the street. The inspiration for each yoga tank in the Earth's Song Collection is deeply rooted in The Mutant Message Down Under. This book is an underground best seller that accounts an American woman's spiritual odyssey through the Australian outback. The story illustrates how the Aboriginal people, who many initially see as a less civilized society, carry much more wisdom into human nature and have a deeply profound connection to the Earth. The Agate yoga tank top, as pictured above, is designed to empower self-healing in a spiritual, emotional and physical way. Wear it to strengthen your intention for yoga practice and for life.
The Free Flow tanks also come in several ombre colors, as pictured above. Each ombre tank color represents a connection to the Earth: The Sky, The Sea, The Desert and The Earth.
All of the tank top styles now come in three different sizes: small, medium and large.
Stelari's Free Flow Tanks are also made with recycled polyester eco-fabric that delivers fashion without compromising Mother Nature. These tank tops effortlessly move with the rhythm of your life. Beautiful, symbolic, infused with soul, these tanks connect you with nature and your highest self.
In addition to the tanks, Stelari is introducing their new mesh tops. These lightweight, long-sleeved tops are perfect for working out and cooling down. They are available in two different colors, Onyx and Snow. They will also be available in two different sizes, XS/S and M/L. They look great worn over the Free Flow ombre tanks.
More about Stelari:
Stelari is a bohemian yoga wear line for bohemian beings. The essence of the Stelari brand is simple: purposeful, passionate fashion. Their goal is to create versatile, comfortable and meaningful activewear. It's about more than looking good in the mirror or on the mat. It's about connecting rather than covering; enlightening, lifting up, and liberating the heart, mind, body and soul. When we connect deeply to the core of our being, we begin to move with the flow of life. We find our rhythm. We find the rhythm of life.
Embrace it. Wear it. Live it. Love it.
Find Your Rhythm with Stelari.
"Oneness has no size, shape or weight. Oneness is essence, creativity, purity, love, unlimited, unbounded energy." - The Mutant Message Down Under
To learn more about Stelari, go to: http://www.stelari.com
You can also visit their social media pages using the handle @StelariClothing.
For more information, please contact: Tosha(AT)ToshaClemens.com