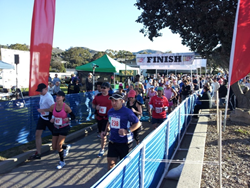 "The mobile-friendly registration platform and integrated social media feeds paired with the team's operational expertise will absolutely help me grow my business" -Bill Escobar, Owner of Elite Sports California
San Diego, CA (PRWEB) August 04, 2015
Events.com, an event management platform that facilitates and enhances the experience of hosting and attending events, announced today that Elite Sports California LLC, a multi-sport event management company that creates and produces marathons, half marathons, duathlons, triathlons, and 5K to 10K races has selected Events.com to provide online event registration along with operational and social media expertise.
"The Events.com team has a long history of proven success in the endurance space," said Bill Escobar, Owner of Elite Sports California. "The mobile-friendly registration platform and integrated social media feeds paired with the team's operational expertise will absolutely help me grow my business."
"Today's announcement with Elite Sports California is another solid step in our journey to become the leader in endurance events, especially in our backyard right here in Southern California," said Adam Horton, Senior Account Executive of Events.com. "Events.com provides an unmatched event management toolkit allowing Elite Sports California to consolidate all of their efforts into a single solution."
Elite Sports California helps local charities that focus on health and fitness. Ventura County charities that have benefited from Elite Sports California events include Team in Training, Simi Valley Days Foundation, Moorpark Soccer Club, Calvary Church, Buena Music, and Oxnard All-Star Soccer Club.
ABOUT ELITE SPORTS CALIFORNIA, LLC
Elite Sports California was founded in April 2008 with the idea of producing high-quality sporting events throughout Southern California. Our race courses are designed to be appealing to athletes of all levels of fitness so they want to come back year after year. Plus, all of our races are fundraisers for local charity organizations! To learn more, please visit http://www.elitesportsca.com.
ABOUT EVENTS.COM
Events.com is a leading online marketplace uniting event organizers and event participants in a single place. Its cloud-based application bridges the gap between event organizers and event goers, giving the event ecosystem an improved solution to planning and finding events. Events.com has over 75 employees with headquarters in San Diego and an office in Ottawa, Canada. To learn more about Events.com, please visit http://www.events.com.
Media Contact:
Sarah Pease or Lori Sussle Bonanni
Events.com
858.257.2300 x280
press(at)events(dot)com