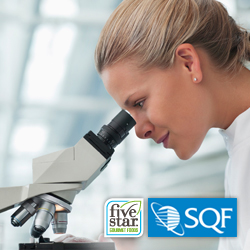 (PRWEB) August 04, 2015
FiveStar Gourmet Foods, a leading supplier of prepared fresh and frozen meals, announced today that it has been awarded the SQF 2000 Level 3 Certification by the Safe Quality Food Institute (SQFI). SQFI is a globally trusted, recognized and accepted food safety and quality program. SQF 2000 Level 3 is the most stringent—and highest—rating awarded by SQFI.
"FiveStar Gourmet Foods is committed to creating and maintaining the highest food safety standards in the industry," said Tal Shoshan, founder and CEO. "Our products are carried by some of the largest retailers in the United States. These clients trust us to provide them with wholesome products they can sell to their customers with confidence, and we take this responsibility very seriously. Consequently, maintaining our customers' trust in our brand is paramount to us.
With this certification our clients know that our products are subject to the most stringent food safety and quality standards available globally. Every step of our process, from the quality of ingredients to the preparation and packaging of the end product, has been evaluated and meets the most rigorous global standards available. That means our clients are buying (and selling) more than just a great product, they are also getting peace of mind."
Achieving SQF Level 3 Certification demonstrates FiveStar's passion and pursuit of excellence through focused innovation and continuous improvement. They exceed industry standards.
To achieve Level 3, a company must demonstrate a comprehensive mastery of food safety and quality management systems.
"We have had a long history of working with leading safety organizations in the food service industry. We had always maintained 99% or higher third party audit scores and had a sustained 100% audit score with Costco. The SQF system provides opportunity to measure and quantify our success. I am proud of our entire team for their uncompromising commitment and ongoing engagement in this process. We have the best food safety and quality team in the industry," Mr. Shoshan said.
About FiveStar Gourmet Foods
FiveStar Gourmet Foods has over 20 years of success in the prepared fresh and frozen food industry. An innovator in providing healthy products, using recycled packaging material and exceeding industry standards for food safety, FiveStar has achieved both organic certification and the highest quality and food safety certification of SQF Level 3. Learn more at: FiveStarGourmetFoods.com
For details and product availability contact FiveStar Gourmet Foods at (877) 546-8763 or info(at)fivestargourmetfoods(dot)com
About SQF
One world. One standard.
SQF is recognized by retailers and foodservice providers around the world who require a rigorous, credible food safety management system.
The SQF Program is recognized by the Global Food Safety Initiative (GFSI) and links primary production certification to food manufacturing, distribution and agent/broker management certification.
Administered by the Food Marketing Institute (FMI), SQF benefits from continual retailer feedback about consumer concerns. These benefits are passed on to SQF certified suppliers, keeping them a step ahead of their competitors.
SQF is the only scheme to integrate a quality component as well as food safety.
The Safe Quality Food Institute Mission: To deliver consistent, globally recognized food safety and quality certification programs based on sound scientific principles, consistently applied across all industry sectors, and valued by all stakeholders.
SQF Vision: To be the single most trusted source for global food safety and quality certification.