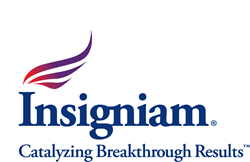 "Everything in an organization comes down to its people, and Insigniam is committed to shifting to that view within the world of business." -Shideh Sedgh Bina, Insigniam Founding Partner.
Philadelphia, PA (PRWEB) August 04, 2015
Insigniam, an international management consulting firm serving large-cap enterprises across a breadth of industries, announces a new event: 2015 Thought Leadership Day: A Meeting of the Minds including a full day of working sessions that promises to challenge leaders. The day of working sessions will take place on September 17, 2015 in Philadelphia, PA.
The intent of the 2015 Insigniam Thought Leadership Day is to give executives a forum in which to share, discuss, and learn new strategies for leading their respective organizations. The day will include a dynamic mix of practical, hands-on work and will include interactive discussions all designed to enhance the leadership skills of attendees and challenge business-as-usual behavior. Through intensive and targeted working sessions, participants will answer the question: "How can I lead a more inspired and accountable workforce at my organization?" for themselves. Executives who attend the session are promised they will leave with new, tangible actions they can take for 'Leading an Accountable and Inspired Organization'.
Registration is open for executives and senior vice presidents only. Admission to the event is $395 before August 17, 2015 and $495 in the month leading up to the event.
At the heart of execution is accountability. Without an accountable and inspired workforce, corporations in the contemporary business climate will and are failing. Through targeted and intensive working sessions, this event will confront the accountability issues that keep the executives at today's large-cap organizations awake at night. The working sessions have been developed to deal with the key points needed to empower and mobilize a workforce that's inspired about a corporate vision, and ensure they feel accountable for the execution of that vision.
Paul Fireman, founder and former CEO of Reebok, who presently serves as Chairman of Fireman Capital Partners, will attend the day of working sessions and will share his experiences of leading an inspired and accountable organization. Fireman started with an initial investment of $65,000 in 1979 and built sporting apparel powerhouse Reebok, ultimately selling it to Adidas for $3.8B in 2006. The leaders and companies that make the greatest impact in their organizations and in the world have always fascinated Mr. Fireman. He has discovered some remarkable patterns about those with the capacity to inspire, including how they think, act, and communicate as well as the environments in which people operate at their natural best. He has devoted his life to sharing his thinking in order to help other leaders and organizations inspire action.
"The theme of our inaugural Thought Leadership Day will be 'How to Lead an Inspired and Accountable Organization'," says Shideh Sedgh Bina, one of Insigniam's co-founding partners. "Everything in an organization comes down to its people, and Insigniam is committed to shifting to that view within the world of business. What we've found is that if you're willing to step out of your comfort zone and look at your work through a specific lens, there is no limit to the amount of opportunities which can be created. Our Thought Leadership Day is about exactly that, pushing ourselves out of what is familiar and known. We'll urge you to evaluate your own leadership and ultimately discover what it is to lead an accountable and inspired organization."
For more information about this event please visit http://www.insigniam.com/thoughtleadership/
Insigniam has over 25 years of experience working with large, complex organizations in generating breakthroughs in their management results—whether that be in topline growth, strategy implementation, better profitability, or culture change. Our innovation consulting enables enterprises to innovate through identifying new strategic frontiers, generating creativity, and executing growth opportunities on those frontiers. By marrying breakthrough performance and innovation, our services and solutions are unparalleled in their potency to quickly create dramatic growth. Clients have documented, in aggregate, more than 50x ROI in management results considered critical and essential to the success of their enterprises. Our other solutions include Enterprise Transformation, Breakthrough Projects, Transformational Leadership, and Managing Change. Offices are located in Philadelphia, Laguna Beach, Paris and Hong Kong.
See more at: http://insigniam.com/