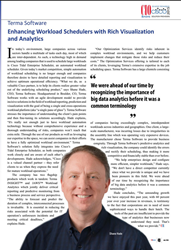 We have enjoyed the greatest revenue growth in the company's history, and expanded our offerings to include Optimization Services for AutoSys, CA7 and Tidal scheduling technologies
Boulder, CO (PRWEB) August 04, 2015
CIOReview (http://www.cioreview.com) has chosen Terma Software (http://www.termasoftware.com) for its 20 Most Promising CISCO Solution Providers 2015. The recognition comes as a result of Terma's expertise in providing advanced workload analytics, monitoring, and reporting solutions for enterprise job scheduling and workload automation. Read the full article here.
CIOReview's panel of experts and members of its editorial board regularly recognizes and promotes technology entrepreneurship. In April, Terma Software also made the list of 20 Most Promising CA Solution Providers who were showcased "due to their continuing excellence in delivering top-notch solutions," said Harvi Sachar, Publisher and Founder, CIO Review. The fact that Terma was recognized on both lists points to their commitment to ensuring that their technology continues to be vendor-neutral. Their Workload Analytics platform provides a 'single pane of glass' across the major workload automation vendors' products, giving large corporations insight into their often complex, heterogeneous scheduling environments.
"Again, we are pleased to be recognized by CIO Review's panel of experts and thought leaders. 2015 continues to be a very exciting year for us. We have enjoyed the greatest revenue growth in the company's history, and expanded our offerings to include Optimization Services for AutoSys, CA7, and Tidal scheduling technologies." said Shane Hade, CEO, Terma Software. "Recognition by CIO Review substantiates our position as the worldwide leader in Workload Analytics. We are looking forward to announcing even more innovation in the months to come, with enhanced analytics that incorporates external data and correlation between data sources. This new functionality will allow enterprises to understand the ways that all their data interacts and influences the performance of their workload as well as the outcomes of their business goals. This will prove to be a game-changer in the field of Workload Analytics."
About Terma Software
Based in Boulder, Colorado and New York, New York, Terma Software provides monitoring and reporting solutions for enterprise job scheduling and workload automation products, as part of their workload analytics. The company's flagship product JAWS™ helps organizations optimize their workload processing and get more value out of their workload automation products by providing SLA management, forecasting, prediction, and reporting. For more information, visit http://www.termasoftware.com
About CIO Review
CIO Review constantly endeavors to identify "The Best" in a variety of areas important to tech business. Through nominations and consultations with industry leaders, CIOReview's editors choose the best in different domains. The Cisco Special Edition is an annual listing of 20 Most Promising Cisco Technologies Solution Providers in the U.S.