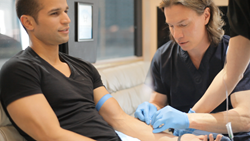 "The hangover business is not an easy market segment. This article in Entrepreneur Magazine shows that we have worked hard to innovate and apply medical science to a complex problem, which has led to our success"
Las Vegas, Nevada (PRWEB) August 05, 2015
Dealing with a hangover with no relief in sight could well be a thing of the past with the various treatments that Hangover Heaven® offers. This medical clinic, the first of its kind, has been featured in Entrepreneur Magazine's August issue. A national business publication, Entrepreneur Magazine is the premier source for everything small business.
The piece, titled 'A Better Morning After', featured Hangover Heaven®, the business venture of Dr. Jason Burke, veteran anesthesiologist and the world's leading and only hangover specialist. His revolutionary new treatment has already helped over 20,000 tourists in Las Vegas get rid of their hangover in less than 45 minutes with a success rate of 98%. Dr. Burke's approach to treating hangovers goes above and beyond the traditional method of addressing the issue of dehydration alone. After treating thousands of people, he found that oxidative stress and inflammation also caused hangovers, which is why all his treatments are centered on fixing these issues.
The article in Entrepreneur Magazine perfectly sums up Dr. Burke's successful entrepreneurial approach of tailoring hangover treatments to suit individual needs. From IV and non-IV hangover treatments to IV vitamin therapy and custom formulated hangover support supplements, Hangover Heaven® offers basic packages for mild nuisance hangovers and premium packages for severe hangovers.
"The hangover business is not an easy market segment. This article in Entrepreneur Magazine shows that we have worked hard to innovate and apply medical science to a complex problem, which has led to our success," said Dr. Jason Burke, founder of Hangover Heaven®.
Their team of medical professionals comprising nurses, nurse practitioners, physician assistants and doctors treat clients in their modified 45-foot mobile hangover treatment clinic, in the client's hotel room as a part of their $300 in-room treatment service and a brick-and-mortar clinic located right off the Las Vegas Strip. All the treatments are focused on replenishing the body's supply of vitamins and antioxidants. Hangover Heaven® also offers oxygen bars rental services for corporate conventions and private events in Las Vegas.
More information about Hangover Heaven® and the various hangover treatments and cures is available at http://www.hangoverheaven.com