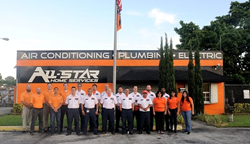 In an effort to expand while still providing outstanding home service needs to South Florida, our family needs to grow.
MIAMI, Fla. (PRWEB) August 05, 2015
All-Star Home Services, an HVAC, plumbing and electrical company servicing the greater Miami-Dade community, has announced plans to expand its workforce with all-new job openings in a variety of departments, including apprenticeships. In total, the company plans to expand with 13 all-new workers ranging from customer service representatives to HVAC installers.
"With any service-based company, having a stellar workforce serves as the groundwork for successful growth," said Rocco DiBenedetto, owner of All-Star Home Services. "In an effort to expand while still providing outstanding home service needs to South Florida, our family needs to grow and we're looking forward to helping our new team members become 'All Stars' in their own right."
Available now to professionals experienced in a variety of home and customer service fields as well as budding trade professionals, All-Star Home Services' new job openings will help the brand reach growing customer demand for HVAC, plumbing and electrical work. Openings include: two customer service representatives, two HVAC technicians, two HVAC installers, two plumbing technicians, one electrical technician, and four apprentices. All positions will be carefully filled to match All-Star's commitment to excellence in customer service and quality work with extensive background checks to ensure all technicians are licensed in their respective fields, despite the 2014 U.S. Talent Survey stating that skilled trade positions are the most difficult positions to fill.
"Unlicensed contracting is a major issue in Miami and our aim as a company is not only to provide the best home service work possible, but to do so legally and with safety as a top priority," said DiBenedetto. "While we're excited to expand our workforce, we only want to do so with individuals who are happy to blend with our mission, and with our new apprentice openings, we hope to put a stop to unlicensed activity in Miami as well as in the entire home service industry."
All-Star Home Services provides the greater Miami community with 24 hour services of all air conditioning, electrical and plumbing needs including commercial air. Technicians are licensed and insured and expertly trained to tackle repairs and maintenance procedures on all brands of equipment with authorization to sell products from 22 leading air conditioning brands. For more information about the job openings, including the apprenticeships, call 786-270-1688 or visit allstarhomeservice.com.
About All-Star Home Services
All-Star Home Services has been servicing, repairing and replacing air conditioning and refrigeration units around the Miami-Dade area for more than 20 years. The company is an authorized dealer for 22 brands, certified by the state of Florida and North American Technician Excellence. All technicians also receive NATE training and undergo a background check. The family-owned company has earned a good reputation among its customers and the Angie's List Super Service Award six years in a row. For more information, call 786-270-1688 or visit http://allstarhomeservice.com/
###
For additional information, contact:
Heather Ripley
Ripley PR
hripley (at) ripleypr (dot) com
865-977-1973