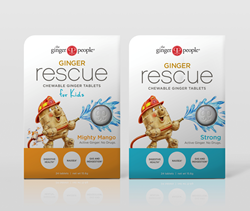 "For people who love traveling, exercise and keeping up with a busy life, good digestive health is everything. We were getting a lot of feedback from our consumers who wanted a drug-free digestive aid and nausea remedy that worked," - Abbie Leeson, owner
MARINA, California (PRWEB) August 05, 2015
The people who know ginger best are diving into a new product category with Ginger Rescue, a drug-free nausea relief and digestive support product powered by active ginger compounds. The convenient and tasty chewable tablet comes in two strengths: Strong for adults and Mighty Mango for kids. The product will debut in stores in mid August 2015.
More than a third of adults and children suffer from motion sickness and over half of pregnant women reportedly endure morning sickness. U.S. consumers spend over $20 billion annually to treat non-chronic stomach ailments. Existing over-the-counter remedies often contain drugs that cause unpleasant side effects, are ineffective or just taste icky. Appreciation for the importance of digestive health on total wellbeing as well as changing healthcare dynamics have led to a surge in demand for safer, yet effective options in drugstores and natural supermarkets.
"For people who love traveling, exercise and keeping up with a busy life, good digestive health is everything. We were getting a lot of feedback from our consumers who wanted a drug-free digestive aid and nausea remedy that worked," said Abbie Leeson, owner and executive vice president of The Ginger People. "So, we answered the call by deepening our research and developing a ginger solution."
Ginger has been used for centuries to treat upset stomachs, and its worldwide use in modern times is testament to its efficacy. However, not all ginger is created equal. Research shows a number of active compounds in ginger are responsible for its potent effect on nausea and digestive distress. The amount of these helpful compounds varies, depending on ginger variety, origin, harvest and processing methods. The Ginger People conducted research on the actives levels in different ginger formats and existing products in the market. From the certified lab results, its innovation team created a Ginger Actives Scale to give consumers clear information for making an informed decision when selecting the remedy with the greatest ginger actives.
The launch of Ginger Rescue will be supported by a dedicated webpage 'gingerpeople.com/actives' that explains ginger actives – what they are and how they work – as well as a targeted sampling campaign via social channels.
###
About The Ginger People:
Family-owned-and-operated, The Ginger People was established by Australian Bruce Leeson in 1984 to promote the goodness of ginger. Today, Ginger People Group owns the most award-winning ginger brands in the world and is the preeminent purveyor of value-added ginger food, beverage and skincare products. The company remains true to its original vision: increase awareness of ginger, both for its vast culinary talents and healthful benefits, through innovation and community. Creative assets, brand and product information can be found at: http://www.gingerpeople.com