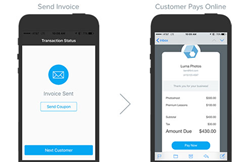 The new TSheets Mobile App Connection capabilities help different apps better talk to each other: think picture-in-picture capability for apps!
Boise, Idaho (PRWEB) August 05, 2015
TSheets, a leading cloud-based time tracking solution, today announced a new technology platform that will help business productivity apps work better with its time tracking application. The first partner integrated onto the platform, Flint, is a free mobile app that allows small businesses, freelancers and non-profit volunteers to get paid on the move by credit card, and with no external card reader. The tight workflow integration between TSheets and Flint eliminates manual data entry into a separate app and the need to plug in extra hardware in order to get paid through mobile devices.
The new TSheets Mobile App Connection capabilities help different apps better talk to each other: think picture-in-picture capability for apps! Users can instantly switch back and forth between app functionality without having to close out of the app they're already in. Using the tool, the worker stays on track, the manager gets useful data in real time, and the IT person can easily manage it all behind the scenes. More app integrations will be added to the suite in the near future.
"It's a mobile, cloud centered world, but no one has yet built a platform where you can easily bundle the amazing enterprise-ready apps out there, and make them work together. The Mobile App Connection is so seamless, employees can easily manage the flow on their smartphones to get work done," says Matt Newbill, Vice President of Partnerships at TSheets. "This type of no-hurdles collaboration between best-in-breed business technology will reinvent business productivity. It's a major first step in leading the intelligent cloud charge."
Flint is a feature-rich app best known for mobile, secure payment processing that requires no card reader, plus on-site invoicing and online sales tools. With the Mobile App Connection functionality, people can track time in TSheets, then get paid as soon as they clock out by tapping the "Charge Customer" button, which will take them directly to the Flint app. Once in Flint, they can quickly scan a credit card to get paid on the spot or send an invoice to get paid online.
"We built Flint to serve businesses, like many TSheets users, who need a fast, easy and secure way of getting paid quickly with nothing more than their smartphones," said Greg Goldfarb, co-founder and CEO of Flint. "The TSheets partnership is a great example of the flexibility of Flint and the ease with which it can be integrated by other small business solution developers."
TSheets will announce future releases to the Mobile App Connections throughout 2015.
About TSheets
Every .75 seconds, somewhere in the world, an employee clocks in using TSheets time tracking software. Thousands of companies in over 100 countries trust our online timesheet technology. Employees track time using a computer, mobile phone, GPS-enabled apps, text, dial in and more—with clock in / out punch card or manual timesheet flexibility. The TSheets App Marketplace is the solution for small businesses looking to completely streamline every aspect of running their back office, from payroll and accounting to accepting mobile payments.
About Flint Mobile, Inc.
Flint is a mobile payment service that enables people to run their business from the palm of their hand. Designed for businesses that operate outside of traditional retail stores, Flint's iOS and Android apps allow users to easily take credit cards on the spot by scanning instead of swiping, via invoice-based bill payment, or online. The Flint platform also offers a range of business productivity features including data syncing with QuickBooks Online, digital coupons, team account workflow, and a merchant portal for advanced account management and analytics across all channels. As a secure Payment Service Provider, Flint also provides instant setup without a merchant account and low transaction fees. Founded in 2011 and based in Redwood City, California, Flint is backed by top-tier Silicon Valley investors and mobile operators. For more information, visit http://www.flint.com.