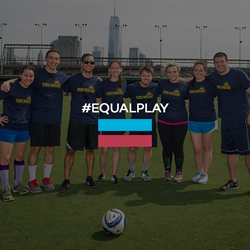 NYC Social's Fall 2015 season prices reflect the income disparity between men and women.
New York, New York (PRWEB) August 04, 2015
While gradual progress has been made toward gender equality, the United States may only be 78% of the way there. NYC Social has decided it is time to level the playing field, quite literally. NYC Social's Fall 2015 season prices reflect the income disparity between men and women.
Right now, women are compensated at a rate of 78 cents for every dollar earned by men. NYC Social is taking action to support gender equality by highlighting this economic injustice. If women are earning 22% less than men, then that's what women will pay to play. Women can enter code "equalplay" during registration and join for 78% of NYC Social's regular prices.
"As a woman and an employer, this is an issue that I take very seriously," said Amy Short, President and Founder of NYC Social. "Women compose nearly 50% of the workforce and 29% of small business owners; it is inexcusable that women are not yet equally compensated in our country. I invite fellow business owners to join me in shining a brighter light on economic injustice. It's up to the empowered to empower others. Together, we can level the playing field."
When women, who make up nearly half the workforce, bring home less daily wages, it means they have less for the everyday needs of themselves and their families. To join NYC Social in the active effort to support equal pay and find out more visit equalplay.nycsocial.com, and use #equalplay to be a part of the conversation on Twitter.
The code "equalplay" is valid is until August 31, 2015, for the Fall 2015 NYC Social season.
ABOUT NYC SOCIAL:
Since 2004, NYC Social has made its mission to connect adults (ages 21+) via athletic activities like Volleyball, Football, Soccer, Dodgeball, and many more. These co-ed sports, open to all experience levels, easily encourage networking while taking the awkwardness out of meeting new people. For more information on NYC Social, please visit: nycsocial.com.