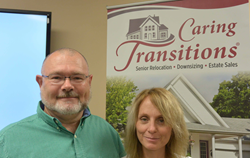 (PRWEB) August 04, 2015
Ken France and Suzette Mack are looking forward to bringing a new kind of care to seniors and their families in northeastern Kansas through their new business, Caring Transitions in the Heartland.
Caring Transitions is America's largest resource for managing senior relocations as well as downsizing and estate liquidations. In addition to organizing, packing, decluttering, moving and resettling, Caring Transitions can handle estate sales, liquidations, and preparing homes for market. Caring Transitions in the Heartland serves Wyandotte, Leavenworth, Douglas and Shawnee counties as well as the surrounding areas.
Whether your situation is planned or unexpected, Caring Transitions' services are perfect for seniors moving in with family or into a safer living situation, busy families, or people clearing out the home of a loved one who has passed. All of Caring Transitions' services are customizable, so clients only pay for the services they need – whether that means managing the entire move and estate-clearing or just getting someone resettled into their new place.
Ken and Suzette are married and have two daughters, Nicki and Kei. They decided to open Caring Transitions in the Heartland after Ken's retirement from the United States Postal Service. Ken also served in the United States Air Force and served as the President of the American Postal Workers Union in Kansas City, Kansas. Suzette is an occupational therapist with an emphasis in gerontology and a wealth of experience working with older adults. The couple, who have been working with the Small Business Development Center through Johnson County Community College, found that franchising with Caring Transitions was exactly in line with what they wanted to do next.
"Both of my parents passed away within a few years of each other and we learned how physically and emotionally draining the process of relocation and estate clearing can be. Relocating or trying to manage a loved one's estate is always upsetting, especially without support. When we were working through my parents' passing, we talked about opening a business that provides these types of services. When we found Caring Transitions, we knew it would be a great fit for us," Suzette said. "So many people were there for us when we needed help after my parents died. Now we can be there for others."
Ken and Suzette are Certified Relocation and Transition Specialists, a designation bestowed by an independent organization that evaluates providers of senior relocation services. Caring Transitions in the Heartland is bonded and insured and all employees are background-checked.
"We will be building this business on the foundation Caring Transitions has perfected over the years, but because we're the local owners of our own franchise, we'll also be putting our personal touch on what we do. Opening a business like this also allows us to give back to our community and be a resource for seniors and their families," Ken said.
"Everything we do, we do through the eyes of compassion. You're not just a customer and we're not just sorting through things in a house. We are building a relationship together and we truly care about your comfort, belongings and home," Suzette added.
For additional information about Caring Transitions and to learn how the company can help you and your family, call (913)488-6397, email KFrance(at)CaringTransitions(dot)net or SMack(at)CaringTransitions(dot)net, or visit http://www.CaringTransitionsHeartland.com.
About Caring Transitions
Caring Transitions, founded in 2006, is the first national franchising concept specializing in senior relocation and transition services. With more than 150 locations throughout the United States all owned and operated by Certified Relocation and Transition Specialists, Caring Transitions provides clients with supportive moves, auctions, rightsizing and transitions. This includes expert advice plus a well-executed transition plan beginning with the initial sorting of personal belongings through packing, shipping and selling of items to the final clearing and cleaning of the property. For more information, visit http://www.caringtransitions.com or visit us on Facebook or Twitter.