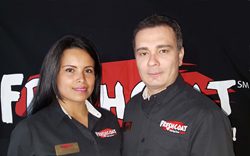 Barrington, IL (PRWEB) August 04, 2015
Freddy Claros is looking forward to bringing his experience as a customer advocate to his new small business, Fresh Coat Painters of Barrington.
Fresh Coat of Barrington, a local Fresh Coat Painters franchise, offers residential and commercial painting services including interior and exterior painting, wood staining and finishing, and other services for nearly every protective coating application. They use quality, environmentally safe materials and offer a 24/7 customer service center, online scheduling, in-home color design consultations and detailed quotes. Fresh Coat of Barrington serves Barrington, Palatine, Hoffman Estates, Algonquin and the surrounding communities.
"I worked for a telecommunications company for 23 years, most recently in strategic proposal development as the project manager for the proposal. A big part of my job was keeping the draft on schedule and advocating for the customer's needs along the way. That's experience I am bringing to Fresh Coat. I understand the importance of making sure the customer understands what they are paying for, that we deliver on those promises and that the customer is happy with our work," Claros said.
Fresh Coat is committed to quality products and services and the company offers a 3-3-3 customer service pledge, so calls will be answered by a live person within three minutes, a quote will be delivered within three days (customer schedule permitting) and the job will be started within three weeks.
All Fresh Coat of Barrington employees are trained, insured and background-checked. Fresh Coat Painters does not work with subcontractors so you always know who will be on the job in your home or business.
Claros decided to open his own business in order to leave the corporate world behind.
"It was time for me to make a change and I felt like I had graduated to being my own boss. I wanted to give myself the opportunity to use my work ethic, passion and dedication to benefit my family in a more meaningful way," he said. "When I was looking at franchise opportunities, Fresh Coat was a great fit. I'm looking forward to using my experience in project management with the business and my team as well as my experience as a customer advocate to meet my customers' needs."
"When you hire Fresh Coat, you can expect a professional experience. I will be your service manager and my professional painters will be in your home or business to paint, not to make a sale. The experience we provide sets us apart from the competition," Claros added.
Originally from Colombia, Claros has spent a majority of his life in the Northwest suburbs of Chicago. He is the father to four daughters from his first marriage and is the step-father to a set of triplet boys in his current marriage. His wife Pilar is also looking forward to fully supporting the efforts of this new endeavor and will be fully committed to working hard to make this a success.
Fresh Coat was founded in 2004 as part of Strategic Franchising Systems. In the last year, Fresh Coat has been included in the Bond's Top 100 and named to Entrepreneur Magazine's Franchise 500 list. Fresh Coat is also part of the International Franchise Association, the Small Business Association's Franchise Registry, VetFran and Minority Fran.
For more information about Fresh Coat of Barrington, call (224)518-0200, email FClaros@FreshCoatPainters.com or visit http://www.FreshCoatBarrington.com.
About Fresh Coat Painters
With more than 120 locations nationwide, Fresh Coat Painters brings quality customer service, top-notch painting products, professionalism and affordable pricing to the residential and commercial painting industry. They use quality, environmentally safe materials and offer a 24/7 customer service center, online scheduling, in-home color design consultations, and detailed quotes. All painters are bonded and insured employees. For more information, visit http://www.freshcoatpainters.com, call 1-855-FRESH-COAT, or visit us on Facebook, Twitter or Pinterest.