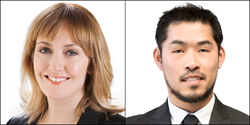 The final winners will be announced at the Inman Connect conference at the Hilton San Francisco Union Square on Thursday, August 6 at 5:00 p.m.
San Francisco, CA (PRWEB) August 05, 2015
Climb Real Estate is proud to have the distinct honor of having two well-deserving and respected agents nominated as Inman's Most Innovative Agent/Broker for 2015, Danielle Lazier and Kenny Truong. The Inman Innovator awards are held each year; this year Inman selected 66 companies and individuals in six different categories to be chosen to receive the prestigious recognition as real estate's top movers and shakers in their respective categories.
Danielle Lazier has 13 years of experience as a full-time real estate agent in San Francisco. She founded SFhotlist.com in 2002 in order to provide home buyers, sellers, and investors with ample information on the local market. She has worked with a range of clients, including first-time homebuyers and international investors, and is ranked as one of the top 10 agents in San Francisco, with almost $60 million in buyer-and owner-represented sales in 2014 (per SF MLS sales data) and over $49 million so far this year. Chris Lim, CEO and founder of Climb Real Estate, is honored to have both Lazier and Truong as valued members of the Climb family and is delighted to hear they have been nominated. "I'm so very proud of Danielle and her Inman nomination for Innovator of the Year. Danielle Lazier has already had a major impact on Climb Real Estate, and we are confident that her leadership skills and dedication to growing the company will help this brand grow into a major powerhouse," he said. "Danielle is a seasoned leader with a unique combination of experience as being one of the first to embrace technology in regards to real estate. With Danielle's proven ability to create positive social impact, her nomination is exciting for our company and our channel partners as well as the San Francisco communities we touch."
Kenny Truong, #FastAgent, has been a top producer since 2011 and is in the top 1 percent of agents for the number of homes sold in the East Bay. Coining himself as both a vet and a rookie, Truong utilizes new technologies, data, marketing tools, and systems to assist his clients. "Kenny Truong is incredible," said Chris Lim. "A technological innovator, a brilliant business man, and a thoughtful leader. He is a natural candidate for this nomination. I could not be more pleased to have him as part of our rapidly growing East Bay expansion plan. Through his experience selling in the Oakland and Berkeley markets, he has gained a profound understanding of how to sell and market homes. His experience as a team leader in our Jack London Square office is invaluable as Climb continues to build our San Francisco Bay Area business."
The final winners will be announced at the Inman Connect conference at the Hilton San Francisco Union Square on Thursday, August 6 at 5:00 p.m. Real Estate Connect is a real estate technology conference held in both New York City and San Francisco each year. Produced by Inman News, the San Francisco conference will be held August 4-7 at the Hilton in Union Square and includes over a hundred speakers, educational workshops for agents and brokers, and both established and startup companies demonstrating the latest in real estate technology.
ABOUT CLIMB REAL ESTATE
Climb Real Estate is a recognized leader in the marketing and sales of Bay Area residential real estate. The San Francisco-based independent and locally-owned brokerage is proud to be the leader in the purchase and sale of a diverse array of homes: from $80,000 parking spots to million-dollar mansions, new development studios to luxurious view penthouses, live/work lofts to charming bungalows and single-family homes. With over 11 years of experience in marketing and collective sales in excess of a billion dollars, Climb Real Estate offers unparalleled marketing and sales expertise with offices in Potrero Hill, Noe Valley, Mission Bay, and Oakland's Jack London Square.