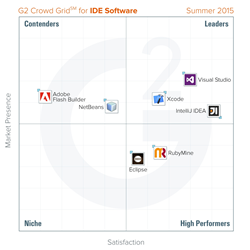 CHICAGO, IL (PRWEB) August 04, 2015
The first Grid℠ report for integrated development environment software, or IDE software, published today by business software review site G2 Crowd, ranks seven products to help purchasers in their selections.
Visual Studio, Xcode and IntelliJ IDEA were named Leaders in the report, receiving strong customer satisfaction scores with a large market presence. RubyMine and Eclipse were named High Performers, earning strong customer satisfaction marks with smaller market presence scores. IntelliJ IDEA earned the highest overall Satisfaction and Market Presence scores.
The Grid℠, created from G2 Crowd's software review platform, factors in customer satisfaction reported by users, along with vendor market presence determined from social and public data to rank products. The Summer 2015 report is based on more than 160 reviews written by developers, database administrators and other business professionals.
IDE software provides programmers and developers a comprehensive set of tools for software development. IDEs commonly include text or code editors, a debugger, a compiler, build automation tools, and a Graphical User Interface builder. IDEs can be specific to a single programming language or offer multi-language support to fit a variety of programming functions. IDE products also tend to offer a variety of plugins to add support for other languages, programming frameworks, and version control platforms.
Of the roughly 50 software vendors listed in G2 Crowd's IDE software category, the ranked products each received 10 or more reviews to qualify for inclusion on the Grid℠.
Across all IDE tools, reviewers reported the product they use meets their requirements at an average rate of 88 percent, and on average reviewers said they were 85 percent likely to recommend the product they use. Developers overall seemed to be generally happy with their IDE tool of choice.
Some highlights from the IDE reviews on G2 Crowd:
"Visual Studio is a very mature IDE that is basically a must if you want to develop using .NET technologies. It is perfectly integrated with Windows operating system, it supports many languages with…lots of features which help design, develop, test and deploy your applications. It also support extensions, which allows other developers to add custom features and bring even more functionality on it."

Carmelo Clemenza, Software Engineer at Ericsson
"Xcode brings everything together that a developer in the Apple ecosystem needs to be successful. Sure, you could use another editor, and you could build your code from the command line, but what Xcode brings (among these basic capabilities) are the other tools that truly make the environment 'integrated'...The time savings…is worth…it."

Mark H. Granoff, Lead iOS Engineer at BioIQ
"IntelliJ IDEA has a lot of plugins to support some of the most popular languages and frameworks out there. I use it mostly for Java software development but I've done PERL, Python, Javascript and C++ too without having to switch to any other IDE or editor...In general is a very complete product with support for major programming languages out there and popular frameworks. It's worth the money."

Sergio Ramirez Martinez, Software Engineer at Amazon Web Services
"The best part of RubyMine are the refactor options. If you ever find yourself renaming a method you definitely don't want to look for each usage. RubyMine looks for all usages of that one renamed method within the entire project and offers you to replace it. If you're unsure RubyMine can take you…through all the files where your method is used."

Martin Schurig, Application Engineer at Symetics
"[Eclipse runs] on all platforms. Provides easy access to remote targets. Provides easy access to debug tools. Lots of documentation. Integrated [Git] support is excellent. Once you get used to the tool, and you become an expert, the world opens up. There are so many ways to improve your process using Eclipse that it might boggle the mind."

Peter Buelow, Embedded Systems Manager at Life Fitness
Satisfaction rankings are generated from the user reviews, and market presence is calculated from vendor size, market share, and social impact. Based on a combination of these scores, each software solution is categorized as a Leader, High Performer, Contender, or Niche.
Access to premium IDE software research can be purchased on the site for $599. This offers the original data for filtering and weighting, and individual profiles of each tool with the most helpful positive and negative reviews, detailed company information, user satisfaction ratings, feature scores and customer metrics. Future refreshes of the Grid℠ will provide updated rankings based on the latest reviews and social data.
Check out the new Grid℠ for the best IDE software and subscribe to the premium research.
_______________
About G2 Crowd, Inc.
G2 Crowd, the world's leading business software review platform, leverages its 37,000-plus user reviews to drive better purchasing decisions. Technology buyers, investors, and analysts use the site to compare and select the best software based on peer reviews and synthesized social data. Co-founded by the founder and former executives from SaaS leader BigMachines and backed by roughly $12 million in capital, G2 Crowd aims to bring authenticity and transparency to business technology research. For more information, go to G2Crowd.com.