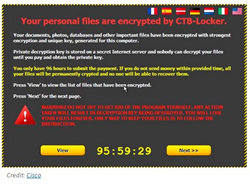 You might get calls from scammers that claim to be Microsoft tech support and try to charge you for the upgrade using your credit card - Stu Sjouwerman, CEO KnowBe4
Tampa Bay, FL (PRWEB) August 04, 2015
The release of Windows 10 as a free upgrade on July 29, 2015, brought it to the attention of cybercriminals who decided to use it to exploit the Windows user base. KnowBe4 is warning Windows users that these cybercriminals are impersonating Microsoft with an email mimicking the notice sent to users with a spoofed originating address to read as update@microsoft.com, then tells users to click on an attached installer, something Microsoft is not doing.
Stu Sjouwerman, CEO of KnowBe4 said, "Bad guys are trying to exploit this confusion. You might get calls from scammers that claim to be Microsoft tech support and try to charge you for the upgrade using your credit card. Cybercriminals will stop at nothing in an attempt to extort users and convince them to download ransomware. We have seen this type of social engineering time and time again. Employees need to be trained how to recognize such attempts and stepped through an effective security awareness training program, to avoid falling prey to a ransomware attack."
The type of ransomware being distributed with this attack is CTB-Locker, malicious software that encrypts your files. It gives one an option to decrypt a few files to show it means business. The ransomware gives 96 hours to pay up in Bitcoin via the TOR network.
Sjouwerman added, "Ransomware has a proven business model for cybercriminals. It has driven in millions of dollars and costs the average business thousands of dollars per user to mitigate. It is much less expensive to train a user on what to look for and test him regularly with anti-phishing tools like the Kevin Mitnick Security Awareness Training program. We all know humans are the weakest link in security and training can make the difference."
According to Cisco's Talon team, who discovered the malware, it has been sending back large amounts of data to command and control servers via hard-coded IP addresses. Cisco speculated this could mean the malware is mining a victim's files for things that look useful.
KnowBe4 has been successful in preventing ransomware infections through end-user training. In fact, the company is so confident that its training works, it offers a ransomware guarantee which pays a customer's ransom in Bitcoin if they get hit after being trained. KnowBe4 also offers a no-charge Ransomware Hostage Rescue Manual.
For more information visit: http://www.knowbe4.com
About Stu Sjouwerman and KnowBe4
Stu Sjouwerman (pronounced "shower-man") is the founder and CEO of KnowBe4, LLC, which hosts the world's most popular integrated Security Awareness Training and Simulated Phishing platform. A data security expert with more than 30 years in the IT industry, Sjouwerman was the co-founder of Inc. 500 company Sunbelt Software, a multiple award-winning anti-malware software company that was acquired 2010. Realizing that the human element of security was being seriously neglected, Sjouwerman decided to help organizations manage the problem of cybercrime social engineering tactics through new school security awareness training. KnowBe4 services 1500 organizations in a variety of industries, including highly-regulated fields such as healthcare, finance, energy, government and insurance and is experiencing explosive yearly growth of 300%. Sjouwerman is the author of four books, with his latest being "Cyberheist: The Biggest Financial Threat Facing American Businesses."
About Kevin Mitnick
Kevin Mitnick, 'the World's Most Famous Hacker', is an internationally recognized computer security expert with extensive experience in exposing the vulnerabilities of complex operating systems and telecom devices. He gained notoriety as a highly skilled hacker who penetrated some of the most resilient computer systems ever developed. Today, Mitnick is renowned as an information security consultant and keynote speaker and has authored four books, including The New York Times best seller Ghost in the Wires. His latest endeavor is a collaboration with KnowBe4, LLC as its Chief Hacking Officer.