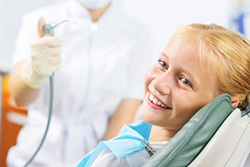 Don't wait until your kids are back in school. Scheduling is so much more challenging. Why take them out of school when they've only just begun getting back into the swing of things? Get it done now, so they can go back to class worry-free.
Dublin, Ohio (PRWEB) August 04, 2015
School is almost back in session. Parents and children are enjoying the last few days of summer in the sun and preparing for the back-to-school scramble. Dublin, OH family dentist, Dr. Cheung (of BrightSmile Dental) reminds parents that the end of summer is the best time for the annual dental checkup. In fact, the dentist recently updated the practice's surgical suite to prepare for nervous children awaiting checkups after a long summer filled with candy, ice cream, and sugar. To kickstart the school-year, Dr. Cheung is offering complimentary cleanings for first time patients, children and adults, in the newly refinished suite designed for comfort.
Dr. Cheung, owner of BrightSmile Dental, suggests, "Don't wait until your kids are back in school. Scheduling is so much more challenging. Why take them out of school when they've only just begun getting back into the swing of things? Get it done now, so they can go back to class worry-free."
The Dublin, OH pediatric dentist recently redid a suite in the BrightSmile Dental facility to make the environment more kid-friendly. The dentist developed a sound-resistant room to keep outside noises from becoming a distraction and an anxiety producing situation for patients already nervous about treatment. The surgical suite is equipped with state-of-the-art, comfort-focused tools and details to help ease children's fears. Dr. Cheung adds, "This also helps nervous adults!"
The Columbus, Ohio dentist has continued to build a reputation throughout the area based on continuous renovations and improvements to the practice. Dr. Cheung pays very specific attention to details that have the biggest impact on patients. For example, the new surgical suite has an optional private entrance. The dentist believes that the practice can relieve some anxiety by eliminating some of the chaos that can happen in waiting rooms.
Dr. Cheung adds, "Again, this is something some of our adults enjoy as well. Whether you're a local celebrity, want to be treated like a VIP, or you simply want to check in and check out because you're nervous, we've made this an option that many of our patients appreciate."
In addition to the new sound-proof surgical suite, Dr. Cheung has partnered with a Columbus, Ohio esthetician. The professional esthetician works in the office and provides facials and waxing. Dr. Cheung comments, "We realize this is an unconventional partnership, but honestly, why not bring a face expert in? We're all about teeth, but also overall health and helping patients look and feel their best."
Dr. Cheung adds, "It's a definite plus for parents who have to wait for their children during checkups and appointments. So, when you schedule for that free back to school checkup, book an appointment with the esthetician to kill that down time and give your brows a lift!"
Ordinarily, BrightSmile Dental charges $315 for an adult checkup and $97 for children. However, BrightSmile Dental is currently offering complementary checkups to new patients throughout the Columbus, Dublin, and Powell areas. The special is limited to one free dental check-up per household and can be redeemed between August 1 and September 30. Patients with insurance can use coverage to pay for the dental exam and substitute the complementary exam for free teeth whitening. Patients should use the code: BACK2SCHOOL15 to redeem the offer.
For more information, contact BrightSmile Dental at 614.706.1836 or visit http://www.brightsmilepowell.com.
Powell, Ohio Family Dentist Dr. Jerry Cheung serves the Greater Columbus community through extensive oral health services. Cheung has vast experience in oral health having trained and worked in a variety of settings ranging from hospital and surgical dentistry to pediatric dentistry. His comfort-focused practice, Bright Smile Dental, places emphasis on creating a positive experience for his patients through a state-of-the art facility, a warm, highly trained staff, and specialized instruments used to specifically treat children and patients with special needs. Bright Smile Dental serves all members of the family providing emergency dental services, cosmetic dentistry, sedation dentistry, and orthodontics.
This press release was crafted and distributed by Green eSolutions. Green eSolutions is an internet marketing team of professionals with a passion for technology, design, brand awareness, and innovative strategies for reaching audiences throughout the country.