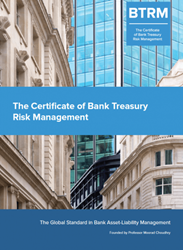 (PRWEB) August 05, 2015
After the 2007-2008 global financial markets meltdown, Basel III was implemented with an emphasis on adherence to conservative principles of capital and liquidity management – the traditional role of the Treasury function in a bank. Keeping these changing landscapes and newly demanded requirement by professionals in mind, Prof Moorad Choudhry has introduced the Certificate of Bank Treasury Risk Management (BTRM). The BTRM is a six month part time course designed to empower individuals working in, or intending to work in, every aspect of bank risk management and asset liability management.
The BTRM is unique in being the only professional qualification for bank Treasury, Finance and Risk professionals that covers every aspect of bank ALM and liquidity risk management. ALM is the core discipline in banking and every bank should have mastered it irrespective of its business model or product suite. Liquidity risk, interest-rate risk, credit risk, currency risk, capital planning and cash management are all encapsulated in ALM for all bankers.
QuantInsti, which is a renowned leader in the field of education on algorithmic trading, has partnered with BTRM (UK) and UNICOM (UK + India) to easily facilitate access to a unique globally accredited certification in bank treasury risk management in the Asia-Pacific region. By offering this course on bank treasury risk management, QuantInsti can now offer a wider suite of finance related courses to a much wider set of financial professionals.
BTRM was founded by Professor Moorad Choudhry in 2015 with 25 years of experience into investment banking in the city of London and later at the Royal Bank of Scotland. Currently he is the deputy CEO at Habib Bank AG Zurich. He has also been the Head of Treasury at RBS Corporate Banking, Head of Treasury at Europe Arab Bank, Head of Treasury at KBC Financial Products and vice-president in structured finance services at JPMorgan Chase Bank, before designing this certification. BTRM is a graduate level professional certification unique in being the only professional qualification for Bank Treasury, Finance and Risk professionals.
BTRM is a 6 month part time global programme which can be attended from any part of the world. The lectures are streamed live to its participants and also recorded for further referencing. Since BTRM has been developed for individuals working in bank risk management and asset-liability management, it covers every aspect of ALM (asset-liability management) and liquidity risk management. There is strong emphasis on equipping students with the right tools which are being used by banks in the real world.
More importantly, BTRM has been developed by day-to-day practitioners of bank treasury risk management. The various modules of the course include:
1.Bank balance sheet risk management
2.ALM operating model and governance
3.Strategic ALM and financial markets
4.Bank liquidity risk management
5.Bank capital management
In addition, there is a unique 6th module consisting of a Diploma. This Diploma consists of a dissertation project; on completion of which the participant will receive a Diploma certificate in BTRM. Moreover, the certification is equivalent to 30 credits - which can be used in universities.
About QuantInsti: QuantInsti is one of the leading quantitative training institutes in Asia, and its core offering is education on algorithmic trading (both quantitative as well as technological aspects). Established in 2010, QuantInsti has an active alumni base of over 300+ certified participants and 1000+ professionals globally trained across various seminars & conferences. QuantInsti has designed educational modules for exchanges across South and South East Asia; and for financial institutions in Asia, etc. QuantInsti is also the sales and marketing partner for Paul Wilmott's CQF in India and Professor Moorad Chaudhary's BTRM in Asia-Pacific (as elaborated above).
QuantInsti and UNICOM: Since 2014, QuantInsti has been invited every year by UNICOM to conduct workshops on algorithmic trading at Fitch Learning in London; and to participate in its flagship conference on "Sentiment Analysis and Behavioural Finance Applied to Trading", London. This informal association between UNICOM and QuantInsti now becomes a partnership after associating together to bring the BTRM certification to Asia Pacific.