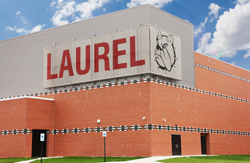 Using blast-etching, sandblasting or powder coating, Cambridge can highlight names, brand marks, and logos on durable metal mesh fabric that adds a personalized and distinct design element to any building sign.
Cambridge, Maryland (PRWEB) August 04, 2015
Cambridge Architectural recently completed three custom signage projects at new high schools and libraries in Delaware, Iowa and Maryland where stainless steel mesh was used to create a unique and eye-catching signature for the building.
Using blast-etching, sandblasting or powder coating, Cambridge can highlight names, brand marks and logos on durable metal mesh fabric that add a personalized and distinct design element to any building sign.
For Laurel High School and Middle School, a new public school building opened in 2015 in Sussex County, Delaware, Cambridge powder-coated the Laurel name in red and Bulldog logo in black on a series of nine Shade mesh panels. Becker Morgan Group (Newark, Delaware) selected Cambridge Shade mesh for the signage, and panels were hung on a highly visible corner of the school façade using an Eclipse Mid Ejector attachment system.
Above the entrance of the new Mid City High School in Davenport, Iowa– opened at the beginning of the 2014/2015 academic year – bold MCHS lettering was blast-etched onto four mesh, in-tension panels. BLDD Architects in Davenport collaborated with Cambridge to create GRILLE, a custom metal fabric weave. The panels were hung with an Eyebolt attachment system over the school's entrance.
Cambridge worked with the Lukmire Partnership (Rockville, Maryland) on an addition and renovation of the Montgomery County Public Library branch in Olney, Maryland that was completed in 2014. New signage marking the library was created in Cambridge's Pellican mesh and mounted above the entrance using a combination of Cable and Eclipse attachment systems. Lettering was etched onto the mesh panels. The library's westward-facing façade also incorporated mesh to provide solar shading.
Other academic projects using Cambridge mesh for a combination of custom signage and solar shading include the Texas A&M Memorial Student Center in College Station, Texas, and Moreno Valley College's Student Academic Services facility in Moreno Valley, California.
About Cambridge Architectural
Cambridge Architectural, a division of U.S. Cambridge, Maryland-based Cambridge International, is the most experienced full-service provider of architectural mesh systems for both interior and exterior building applications. As the world leader in tensioned mesh systems, Cambridge Architectural metal fabric solutions lend unique aesthetic appeal, functionality, affordability and sustainable benefits to a variety of structures interior and exterior. Cambridge Architectural offers full system design, engineering and collaboration from concept through installation – in the most challenging building environments and under the strictest budgets. Cambridge Architectural metal fabric systems are categorized by the primary applications they serve, including parking structures, exterior shades, facades, canopies, curtains and others. As a member of the United States Green Building Council, Cambridge Architectural is committed to promoting methods, technology and products resulting in environmentally responsible and healthy buildings. The Cambridge Architectural team develops systems that meet or exceed LEED requirements and provides consultation and direction on a project-by-project basis. Visit http://www.CambridgeArchitectural.com for more information.