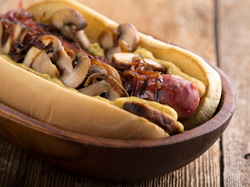 Oklahoma City, OK (PRWEB) August 04, 2015
The Made in Oklahoma Coalition officials are happy to announce this months recipes that are guaranteed to make everyone a fan of hotdogs. August recipes are listed below and include Thai-riffic dogs, Jalapeno Popper Dogs, and The Uptown Dog. These are not your typical hotdog recipes but they are just as, if not more, delicious.
These recipes use ingredients from Made in Oklahoma Coalition food manufactures with products produced by Schwab's Meat, Mountain View Meat Co., Bar-S, Billy Sims, Head Country, Garden Club, Seikel's and Suan's Scotch Bonnet. The recipes are the following:
Thai-riffic Dogs
1 tablespoon rice vinegar
1 tablespoon Sriracha red chili sauce
1/4 teaspoon sesame oil
Pinch of sugar
1/2 cup Suan's Scotch Bonnet Pepper Relish
1/3 cup finely diced carrots
1/2 cup diced cucumber
1/3 cup chopped cilantro
Combine rice vinegar, red chili sauce, sesame oil and sugar, and mix well. Taste and adjust seasonings, as needed. Add Suan's Scotch Bonnet Pepper Relish, carrots, cucumber and cilantro. Set aside.
Peanut Sauce:
2 tablespoons Garden Club Creamy Peanut Butter
1 tablespoon soy sauce
2 teaspoons rice vinegar
2 teaspoons Sriracha red chili sauce
Combine all ingredients, mixing until smooth. Smooth out with more soy sauce or vinegar, if needed.
Place hot dog or sausage in bun. Place vegetable mix on top. Drizzle with peanut sauce, chopped cilantro, and roasted peanuts.
Jalapeno Popper Dogs
10 Schwab's Franks
10 slices Bar-S Thick-Cut Bacon
1/4 cup Head Country Bar-B-Q Sauce
Jalapeno Cream Cheese Sauce:
1 (8-ounce) package cream cheese, softened
1 tablespoon Garden Club mayonnaise
1/4 teaspoon Head Country All-Purpose Championship Seasoning
1 jalapeno, seeded and finely diced
Blend together cream cheese, mayo and Head Country seasoning until smooth. Stir in jalapeno.
Wrap hot dogs with bacon. Brush with Head Country sauce. Grill outdoors or in an indoor grill pan.
Spread buns with Jalapeno Cream Cheese Sauce. Fill buns with bacon-wrapped hot dogs.
Uptown Dog
5 Mountain View Meat Company Polish Sausage links
5 tablespoons Seikel's Oklahoma Gold Old Style Mustard
4 tablespoons Hiland Salted Butter
1 (8-ounce) package J-M Sliced Mushrooms
1/4 teaspoon salt
1/4 teaspoon freshly ground pepper
½ cup Suan's Scotch Bonnet Onion Preserves
Grill polish sausages on an outdoor or indoor grill.
Spread each of five buns with 1 tablespoon Seikel's mustard.
In a sauté pan, melt butter over medium heat. Add mushrooms, cooking until soft and reduced by half. Add salt and pepper, stirring to combine. Add Suan's Scotch Bonnet Onion Preserves to mushrooms, stirring to combine.
Top each polish sausage with the mushroom mixture.
About Made in Oklahoma Coalition
Providing a marketing and promotional platform to assist more than 45 Oklahoma food manufacturers, the Made in Oklahoma Coalition (MIO) builds brand preference and loyalty for members and its products. The MIO Coalition-member companies create a positive economic impact on the Oklahoma economy by employing more than 28,000 Oklahomans. The member-companies of MIO generate over $4.1 billion in annual sales for the state's economy. The MIO Coalition continues to expand the footprint of Oklahoma's food manufacturing sector through business retention and growth. For more information about MIO and its member companies, please visit http://www.miocoalition.com.
Media Contact:
Krista Bruce | 405-615-1526 | kbruce(at)kochcomm(dot)com