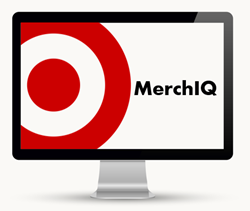 "It is yet another manifestation of our mission to enable vendors to combine disparate data sources into one platform for insightful and actionable analysis. -Jim Lewis, Founder and CEO of Enhanced Retail Solutions
New York, NY (PRWEB) August 06, 2015
Enhanced Retail Solutions (ERS), a leading provider of Software-as-a-Service (SaaS) retail analytic and demand planning solutions to suppliers, licensors and their retail trading partners, today announced a new feature to their Retail Analytic Software. Users can now import Target's new MerchIQ POS data file. Target has moved from Info Retriever and Partners Online portals to MerchIQ. The upside is that users can now get one set of data on Monday morning that has door level sales data, including dollars. The downside is the file is one large download that is difficult for most companies to work with.
Enhanced Retail Solutions (ERS) can now import that file automatically, as it does with its EDI data files. Vendors can take benefit of ERS point of sales (POS) software's Business Intelligence capabilities to analyze sales data, by creating, interacting and automatically distributing reporting and dashboards.
"While we have and continue to work with Target EDI data, this new option would benefit new and existing customers alike," said Jim Lewis, Founder and CEO of Enhanced Retail Solutions. "It is yet another manifestation of our mission to enable vendors to combine disparate data sources into one platform for insightful and actionable analysis."
About Enhanced Retail Solutions LLC:
Enhanced Retail Solutions is software and consulting firm specializing in Retail Analysis and Demand Planning for manufacturers, licensors and their retail partners. ERS' state of the art software tools and consulting deliver critical data quickly, easily and cost effectively, adding over one hundred million dollars to their clients' bottom line. ERS' broad customer base includes industry leaders in the electronics, consumer products, apparel, footwear, home textile, toy, home décor, home improvement, housewares, jewelry and food industries. Headquartered in New York City, Enhanced Retail Solutions has offices in the Dallas, TX and development in the US, Cork, Ireland and Delhi, India. For more information, visit http://www.EnhancedRetailSolutions.com.