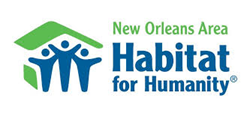 NAMFS is pleased to participate in Habitat For Humanity's continued efforts to build homes and restore neighborhoods in the city of New Orleans.
Stow, Ohio (PRWEB) August 04, 2015
Since 2012, The National Association of Mortgage Field Services (NAMFS), has identified a "Gives Back Opportunity" to coincide with the Annual Conference of Mortgage Field Services. This year, NAMFS is pleased to announce that it will partner with the New Orleans Area Habitat For Humanity on Wednesday, September 2, 2015.
The Annual Conference of Mortgage Field Services draws hundreds of professionals in the default mortgage servicing industry each year. Over the last three years, attendees have contributed their skills in property preservation and maintenance to help clean, repair and build properties in the conference host city. NAMFS is happy to help the New Orleans Habitat for Humanity organization further their mission to empower families by helping them build a home and transform their lives through home ownership.
Since its inception, New Orleans Area Habitat for Humanity (NOAHH) has been working in partnership with hard working, low-income families in New Orleans to build and finance new, safe, affordable homes. NOAHH is addressing blight as it rebuilds homes in the city still affected by the devastation of Hurricane Katrina. Through programs like "A Brush with Kindness (ABWK)", an exterior home preservation service, and new construction projects, NAMFS volunteers will play a fitting role as they assist in the painting, landscaping and minor repair services on NOAHH homes.
Registration for the Annual Conference of Mortgage Field Services is open to all default mortgage servicing professionals. Learn more about the conference and register here.
About NAMFS
The National Association of Mortgage Field Services, Inc. (NAMFS) is the premier trade association for the mortgage field service industry. We are dedicated to working with all entities of the industry from the Government Agencies and investors that set policy to the contractors and inspectors that perform the work.