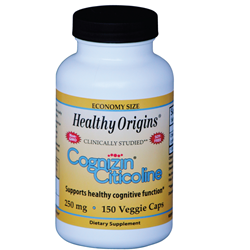 New York, NY (PRWEB) August 04, 2015
Healthy Origins® Cognizin® Citicoline is now available in a vegetarian capsule formula. Healthy Origins® Cognizin® is a trademark for Citicoline, a nutrient that supports memory function and healthly cognition.*
Cellulose is a preferred base for a capsule for those applications which have more of a semi-solid composition. Vegetarian capsules are also natural, non-toxic and have no know health risks. The Healthy Origins consumer is a highly educated and demanding consumer that expects a continuously improving product while maintaining the value the brand has represented for nearly 20 years.
"We are now offering our Cognizin® Citicoline in a vegetarian capsule in order to meet the evolving expectations of our valued consumers" said Matthew Eby, VP of Sales & Marketing. "Using a vegetable capsule assures there are no animal byproducts in our formulation and allows those who are vegetarians and vegans to consume with ease."
Healthy Origins® Cognizin® Citicoline is available in a 250 mg- 60 or 150 vegetarian capsule bottle. The product supports healthy brain metabolism* and healthy brain performance* along with the benefits of its new vegetarian capsule.
For more information about Healthy Origins® Cognizin® Citicoline, visit http://www.healthyorigins.com
About Healthy Origins®
Healthy Origins® was founded in 1996 with a simple but challenging mission statement: "to provide a healthy value from reliable origins." Healthy Origins is a Pittsburgh based distributor of nutritional supplements. They provide top quality for some of the most reputable suppliers in the world. Most of their active ingredients are patented branded ingredients manufactured by reputable suppliers who are leaders in their respective fields. Products are developed with Health Origin's own customer formulations and are manufactured with strict compliance to cGMP guidelines. For more information, visit http://www.healthyorigins.com
About COGNIZIN®
Cognizin is a branded form of Citicoline, a natural substance found in every cell of the body and especially vital to brain health.* Citicoline is broken down during intestinal absorption and, after passing through the blood/brain barrier, is reconstituted in the brain as citicoline.* Citicoline is a water-soluble compound that supplies precursors for the synthesis of phospholipids, including phosphatidylcholine, a major constituent of brain tissue*; helps maintain normal levels of acetylcholine, a chemical that regulates memory and cognitive function*; enhances communication between neurons*; supports visual function*; protects neural structures from free radical damage*; enhances metabolism and healthy brain activity*; and helps sustain healthy cellular mitochondria for sustained energy*. Cognizin is also highly stable, GRAS, ultra-pure and allergen-free.
*These statements have not been evaluated by the Food and Drug Administration. This product is not intended to diagnose, treat, cure, or prevent any disease.
About Kyowa Hakko USA
Kyowa Hakko USA is the North American sales office for Kyowa Hakko Bio Co. Ltd., an international health ingredients manufacturer and world leader in the development, manufacturing and marketing of pharmaceuticals, nutraceuticals and food products. Kyowa is the maker of branded ingredients including Cognizin® Citicoline, Lumistor® L-Hydroxyproline, Pantesin® Pantethine, Setria® Glutathione, as well as Sustamine® L-Alanyl-L-Glutamine. For more information visit http://www.kyowa-usa.com.