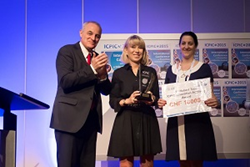 Worcester, Mass. (PRWEB) August 04, 2015
Terri Camesano, professor of chemical engineering at Worcester Polytechnic Institute (WPI), recently received a First Place Award at the Third International Conference on Prevention and Infection Control (ICPIC) for her ongoing research into the use of antimicrobial peptides to prevent catheter-related infections. Camesano was honored at the Innovation Academy during ICPIC in Geneva, Switzerland, for her presentation, "Development of Antimicrobial Peptides for Catheter-Related Bloodstream Infection Prevention."
Despite ongoing advances in infection control and prevention, antimicrobial resistance persists as a global threat. Research topics at ICPIC 2015 included surgical site and prosthetic infections, hand and skin hygiene, multidrug resistant pathogens, and sterilization. The annual meeting brings together infectious disease experts from around the world, including medical researchers, academics, and public health officials from the Centers for Disease Control and Prevention (CDC), the World Health Organization, and other non-governmental entities.
"We were honored to be selected to present our work," said Camesano, whose team was chosen for the Innovation Academy from among 200 research groups attending the conference. "ICPIC gathers the most innovative and forward-thinking experts in infection control, and we were excited to talk to people from around the world about what we've found. It's encouraging to have this sort of support from such a focused community."
Camesano's work, which has been published in the journal ACS Applied Materials and Interfaces, demonstrates the benefits of surface-tethered antimicrobial peptides (AMPs), molecules found naturally in the immune system that are able to kill bacteria and fungi. Because they are stable on surfaces, AMPs can be applied to medical devices, catheters, and similar items to improve infection control. According to the CDC, catheter-related bloodstream infections negatively impact over 100,000 patients per year in the United States and are extremely expensive to treat; they also lead to antibiotic resistance.
In addition to catheter applications, Camesano says "AMPs can act against many different types of bacteria, since their usual mechanism is to cause holes to form in bacterial cell membranes. Due to their versatility, AMPs may have applications in a number of other areas, including as coatings for joint prostheses and other types of orthopedic implants." In Camesano's research, AMPs were shown to be effective against Staphylococcus aureus (staph) and Escherichia coli (E. coli).
Camesano and her team of graduate students are currently exploring these options. She plans to use the $10,000 prize to further this research.
About Worcester Polytechnic Institute
Founded in 1865 in Worcester, Mass., WPI is one of the nation's first engineering and technology universities. Its 14 academic departments offer more than 50 undergraduate and graduate degree programs in science, engineering, technology, business, the social sciences, and the humanities and arts, leading to bachelor's, master's and doctoral degrees. WPI's talented faculty work with students on interdisciplinary research that seeks solutions to important and socially relevant problems in fields as diverse as the life sciences and bioengineering, energy, information security, materials processing, and robotics. Students also have the opportunity to make a difference to communities and organizations around the world through the university's innovative Global Perspective Program. There are more than 40 WPI project centers in the Americas, Africa, Asia-Pacific, and Europe. For more information visit http://www.wpi.edu.
Contact:
Alison Duffy
amduffy(at)wpi(dot)edu; 508-688-6656