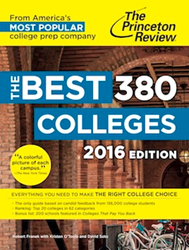 Needham, MA (PRWEB) August 06, 2015
Olin College is once again on Princeton Review's list of top colleges published in the latest edition of The Best 380 Colleges—a guide to choosing a college or university used by millions of parents and students. Olin is listed as a "College That Pays You Back" and one of the "Best Northeastern Colleges." Olin also made the top 20 list in a dozen different categories, including taking the number one spot in "Best Classroom Experience." The full guide to Olin's rankings is below:
#1 Best Classroom Experience
#2 Students Study the Most
#4 Professors Get High Marks
#6 Great Financial Aid
#7 Best College Dorms
#7 Easiest Campus to Get Around
#7 Town-Gown Relations Are Great
#8 Top Internship Opportunities
#10 There's a Game?
#13 LGBTQ-Friendly
#15 Best Quality of Life
#16 Best Career Services
The lists are based on information collected from 136,000 students at 380 colleges around the nation. The survey asks more than 80 detailed questions of the students about academics, administration and about themselves.
In the college's profile, an Olin student wrote: "The professors want to make sure I actually learn the important aspects of the class. They don't grade me on when I turned things in or my spelling mistakes, they grade on my thoughts and the quality of my work."
In its overall profile of Olin, the book's editors note that: "Brains are not enough to get into Olin. Social skills, depth, and the ability to communicate are taken seriously by admissions. Olin boasts many students who have turned down offers from schools like MIT and Cal Tech for just this reason. It is a unique school that looks for passion, creativity, and a spirit of adventure in its students. If you're a reclusive genius, you will be at a disadvantage in this pool of applicants.
Olin College President Richard K. Miller says, "We are particularly gratified with these rankings because they are drawn from student reported surveys. To hold the number one spot in best classroom experience is evidence of the engaged learning process that occurs between our faculty and students every day."
Robert Franek, Princeton Review's Senior VP-Publisher noted, "Every college in our book has outstanding academics. While our purpose is not to crown one college academically 'best' overall or to rank the schools 1 to 380 on any single topic, our lists provide direct student feedback on the schools' campus culture, program offerings and cost. Our goal is to help applicants choose and get into their dream college—the college best for them."