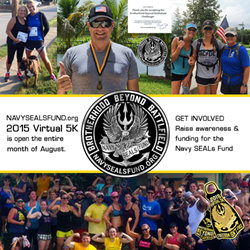 The virtual 5K raises awareness and funding for the Navy SEALs Fund
(PRWEB) August 06, 2015
Those who have fought to preserve our country's freedom, bring you the Navy SEALs Fund Virtual 5K. This unique race gives entrants the freedom to choose how they want to complete a 5K, virtually.
What is a Virtual Race? A virtual race is a challenge that can be participated in wherever an entrant is located. Entrants choose the day, time, location and method to complete the 5k, in two days if needed.
No running on the streets required. Entrants may choose to complete their 3.1 miles by walking / running outside, on a treadmill, at the gym, while participating in another race or by swimming laps.
The only criteria is participants complete a 5k, in August, 2015. Last year, the NAVY SEALs Fund saw entrants RUCK with rocks, walk with kids, run with dogs — even paddle board. This year, the NAVY SEALs Fund wants to see more! Entrants are encouraged to try biking, swimming, rowing or Cha-Cha-Cha-ing across their 5k finish line.
Bottom line, organizers want the participants to be creative, get others involved and have fun! Sign up here: http://www.active.com
All are encouraged to participate, however to receive the bling (medal), entrants must be paid registrants prior to taking the challenge. Navy SEALs Fund Virtual 5k has entry levels for all ages, children and dogs. Get involved, register today and raise money for the NAVY SEAL community.
Participants will get an awesome medal and can bundle a cool race shirt at the time of registration. The NAVY SEALs fund is very excited to have the support of Frog Performance and to offer performance provoking bonus items such as; free Frog Performance T-shirts to team captains at the helm of teams of 20 or more. Youth size shirts are available. Four-legged warriors have a special dog tag awaiting their victorious 5k finish.
Navy SEALs Fund Virtual 5K participants completing the challenge in memory / in honor of a service member, are encouraged to share their story and photos. Content shared with the NAVY SEALs Fund may be included in promotional materials to raise awareness for the Fund. Consent to publish content, including photos, is required.
The Navy SEALs Fund was founded in 2009 by the Navy SEALs. The mission of the Fund is to support the Navy SEAL Community, ensuring that no matter the loss, we would forge on as one family. Investing in the NAVY SEALs Fund gives action to our mission and provides critical resources for the cause.
Generate awareness for the Navy SEALs Fund today. Share links, set a donation goal and be a part of the Navy SEALs Fund Virtual 5k. When registering, choose to fundraise for the Navy SEALs Fund and invite others to donate to your 5K for a cause.
Event details and schedule:
Virtual Race open August 1 – 31, 2015
"Complete the 5K where you live"
Let us know when, where, and how you completed the mission
Send event completion time and/or Ruck weight
Send pictures for sharing. Email: getinvolved(at)navysealsfund(dot)org