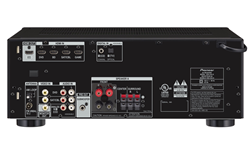 Long Beach, CA (PRWEB) August 04, 2015
Pioneer Home Entertainment U.S.A. continues to provide consumers with an immersive home theater experience with the introduction of the VSX-530-K AV Receiver that offers tremendous performance at an affordable price. Available now for $279.99, the receiver boasts an incredible feature-set that includes discrete amplifiers for all 5 channels to powerfully drive your favorite speakers; complete 4K/60p/4:4:4/24-bit video support with HDCP 2.2 technology, and Bluetooth® wireless connectivity so consumers can easily enjoy content stored on other Bluetooth-enabled devices.
Powerful Sound Control

5.1-channel receiver with 140 Watts (1 kHz 1% THD @ 6 Ohms) 1ch Driven or 80 Watts (8 ohms 20 Hz-20 kHz THD 0.08% 2ch Driven FTC) per channel of clear audio reproduction.
The VSX-530-K creates a dynamic, realistic sound experience, thanks to Pioneer's Phase Control Technology. When amplifying multi-channel audio signals, typical AV receivers use a Low Pass Filter to process low-frequency signals for the sub-woofer. This causes "phase lag" of the low-frequency signals compared to the main channel signals. As a result, the delayed bass makes the sound lack synchronization. Pioneer's Phase Control technology effectively eliminates phase lag and enriches the expressive power of deep, low-frequency and delicate sounds, while maintaining their details.
The new unit supports high-def audio formats such as Dolby® TrueHD® and DTS-HD® to provide your Blu-ray soundtracks with unsurpassed audio quality. Pioneer also includes most Dolby and DTS surround formats that are best suited to the wide variety of available entertainment sources.
Hi-Def Video Connectivity

The VSX-530-K supports 4K/60p/4:4:4 24-bit video signal pass-through with HDCP 2.2 technology, ensuring the receiver's compatibility with the many upcoming 4K UltraHD sources and televisions. So when owners decide to upgrade their visual experience, their audio experience is already in place.
Wireless Freedom

Bluetooth® Wireless Technology is ready to go and is compatible with the apt-X and AAC codecs which compress audio files to provide the best audio quality for wireless transmission.
Ready, Set, Play!

Just simply plug a thumb drive into the front panel USB port and play back all your favorite music, including MP3, WMA and AAC files.
Go Green w/Eco Mode

The intelligent ECO Mode analyzes your sources in real-time, adjusting power consumption to meet your needs, or you can choose the power-saving settings that suit you best.
For more information about Pioneer Home Entertainment's entire line, please visit http://www.pioneerelectronics.com.