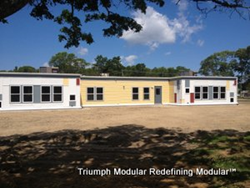 "The modular building, scheduled to open for classes in September, will feature equipment, furniture and bathroom facilities designed with preschoolers in mind." Barnstable Schools Superintendent Mary Czajkowski
Barnstable, MA (PRWEB) August 18, 2015
Triumph Modular heads into the home stretch on the completion of the Barnstable Early Childhood Center at Hyannis West Elementary School. The 8,889 sq. ft. modular building will have a state-of-the-art occupational/physical therapy room and six classrooms serving approximately two hundred preschoolers.
The new modular classrooms will enable the school system's preschool to be concentrated in one location, making it easier for teachers to collaborate and for children to share in enrichment activities. The preschool program will continue to offer four half-day programs known as integrated preschools, because each class of fifteen contains an almost equal mix of children with special needs and peers without special needs. In addition, the new preschool will continue to run a full-day program for children with Autism in partnership with the New England Center for Children.
Examples of modular buildings that Triumph offers to the educational sector include classrooms, libraries, administrative offices, restroom facilities, science labs, locker rooms and childcare facilities. We also build school complexes that encompass any or all of the above. Triumph has a long history of providing modular space for the education industry.
A formal building dedication is scheduled for Mid September. On behalf of Triumph Modular, the builder, congratulations are in order for Barnstable School and TBA Architects, Inc. for another shining example of solving classroom education and space objectives.