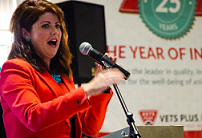 MENOMONIE, Wis. (PRWEB) August 04, 2015
On July 31, Vets Plus employees and business partners celebrated past success in 25 years and future growth for the company as an innovator in animal health. Key speakers at the event included Wisconsin's Lieutenant Governor, Rebecca Kleefisch, Dr. Thomas Shier, professor at the University of Minnesota, and Raj Lall, founder, President, and CEO.
The company formed in 1990 to manufacture and market probiotic and calcium gels for dairy cattle. Since its humble beginnings with just a handful of products, the company has expanded to include a portfolio of several hundred supplement and treat formulations for all species of both food animals and pets. Headquartered in Menomonie, Wis., Vets Plus operates in three facilities with national and global distribution.
According to Lall, the future looks bright for the company. "We're positioned well within the industry—known for quality, research and our wide-ranging capabilities in production," he said. "We've grown because we are always eager to try a new ingredient, formulation, or delivery system and honor our commitments to our private label partners. I'm more excited now than ever to see what our team will develop in the next phase of our business."
Vets Plus continues to expand to meet the needs of customers in animal health and nutrition. Lall declared 2015 as the Year of Innovation and Customer Focus for the company, which is fueled by a strong dedication to research and commitment to customer care.
About Vets Plus, Inc.
Vets Plus, Inc. (VPI), located in Menomonie, Wisconsin, is a leading manufacturer of health and nutritional supplements for both food and companion animals. With over 20 years of experience, Vets Plus creates custom formulations for contract manufacturing of innovative probiotic, prebiotic, nutritional, and nutraceutical products in a wide variety of feeding forms. VPI also manufactures its own product lines including Probios®, Replamin®, PetsPrefer®, Swine Prefer®, Horses Prefer®, and Goats Prefer®. Vets Plus is proud of its continued growth into a leader within the animal health industry and ability to manufacture several hundred products while maintaining ISO-9001:2008 and NASC certifications and cGMP and AAFCO compliance. Vets Plus is a member of the American Pet Products Association (APPA).
###