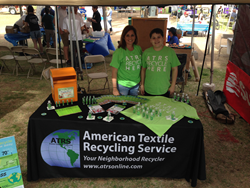 "I'm extremely excited about how far we have come in just one year and how we are supporting our local municipal recycling goals" says Tim Hynd, Tucson Community Relations Advocate. He has spearheaded the recycling program since launch in 2014
Tucson, AZ (PRWEB) August 06, 2015
American Textile Recycling Service (ATRS) reports record breaking pounds of textiles donated and collected this month in Tucson AZ, establishing this municipality as an important subsidiary for ATRS in the Arizona region.
ATRS launched its Clothing & Shoe Recycling service in January of 2014 as a extended branch of its Phoenix facility. Since inception the market has experienced tremendous growth and hit a record-breaking 84,000 pounds collected during the month of July 2015. This represents an increase of approximately 70% over prior months and creates a significant impact on the city's waste diversion plan.
The City of Tucson has defined clothing/textiles (clothing and cloth scraps, household fabrics and linens, footwear, etc.) as a top priority waste diversion category. Textiles are identified as one of six watch-listed materials that are disposed at municipal landfill in large volumes and also supported by strong demand by residents for recycling collection services. Thanks to locally operated private sector businesses like ATRS, the city's waste diversion goals for unwanted clothing and other textiles are both viable and self-sustaining.
ATRS directly supports this municipal initiative by maintaining approximately 110 easy, convenient drop off recyclers within the area, by hosting recycling events throughout the community and by providing the S.M.A.R.T textile recycling curriculum to teachers and schools. This free service is not only a major contributor to waste diversion for the City of Tucson, it is maintained and operated entirely by ATRS, does not require any additional City funding or resources and supports a local charitable organization. It's a win win win for residents!
As the clothing, shoe and household textile donations grow, ATRS continues to fund its local nonprofit partner, Mothers Against Drunk Driving, based on monthly pounds collected from every bin in the Tucson area.
Every item donated into ATRS Clothing & Shoe Recyclers throughout Tucson supports the local chapter of Mothers Against Drunk Driving (MADD). The textile recycling partnership creates an ongoing stream of monthly revenue providing unrestricted funding to fill the gap between the chapter's operating costs and ever-decreasing grants available to non profits.
Much of the Tucson marketplace success is attributed to retail partners, shopping centers, fashion malls and locally operated businesses that host recyclers on property and help create important drop off locations for residents to recycle textiles. Growing relationships with property management companies like Boros Investments and Wiengarten Realty Management create high traffic destinations for neighborhoods to properly donate and dispose of their gently used, unwanted clothing, shoe, toys and household textiles.
"I'm extremely excited about how far we have come in just one year and how we can support municipal recycling goals in the near future," says Tim Hynd, as ATRS Community Relations Advocate who has spearheaded the recycling program in Tucson since its launch in 2014. "Our sister market in Phoenix really helped us get our legs under us in the early months and our close partnerships with local business that support MADD have helped us reach this goal."
To learn more about the items accepted in ATRS Clothing & Shoe Recycling bins or find a drop off location near you, please visit the ATRS website or call the 24-Hr Hotline 866-900-9308.
American Textile Recycling Service (ATRS) is the nation's fastest growing textile recycler and a leading member of the S.M.A.R.T. Association. Its socially responsible business model provides free textile recycling solutions for the public, job stimulation worldwide and much-needed funding for worthy local charities. Easy, convenient ATRS Recyclers are available throughout Phoenix, Scottsdale, Tempe and Tucson AZ, San Antonio, Austin, Dallas, Houston, Galveston and Beaumont TX, Nashville, Florida, Michigan, Tennessee, Atlanta, Oklahoma, Colorado and Southern California. For media inquires contact pr (at) atrsonline (dot)com.