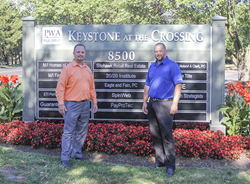 Indianapolis, Indiana (PRWEB) August 05, 2015
PayProTec LLC, a leader in payment solutions and technology has opened its newest office at 8500 Keystone at the Crossing in Indianapolis, IN.
The Indianapolis location will allow PayProTec to expand their offerings to better serve existing customers. The central Indiana location will also allow PayProTec to expand their sales force throughout the United States.
The new office will be led by National Sales Director Dane Lantz II and Regional Sales Director Matt Proctor. Support and training will be provided by Keith Sampson, Vice President of Business Development.
Dane Lantz II grew up in Indianapolis, IN and has over 14 years of sales and service experience with the last 5 years spent in the merchant services industry. Dane states, "I am ecstatic to be part of a company with an established national footprint. It's great to join a team that utilizes new technologies, creates partnerships and integrates itself in new channels of business. The PayProTec team does this and more while focusing on the merchant first."
Matt Proctor brings 15 years of management and sales experience in merchant services to the PayProTec team. Proctor states, "I am looking forward to the PayProTec customer service philosophy for years to come as we expand and grow."
Matt Hoskins, founder of PayProTec echoes his new teammates commitments. "We are excited to open our office in the great city of Indianapolis. Our innovation, strategic partnerships and over a decade of service testify to our dedication of building the most talented team. We are extremely proud to serve the Indianapolis area. PayProTec's continual growth, entrepreneurial spirit and exceptional commitment to customer service are what provide us with the ability to exceed expectations. We will continue to grow in this very competitive industry."
PayProTec, LLC has recently set itself apart with the launch of SALTSHA, an online portal for its merchants that provides current and historical sales data. SALTSHA also identifies the EMV-ready campaign focusing on merchants being informed of new security and liability realities. The SALTSHA team is committed to making sure it's customers needs are met.
PayProTec, LLC is not new to the Indianapolis market. Chad Collins, an Indianapolis native and professional golfer playing on the PGA Tour is sponsored by PayProTec!
If you are interested in learning more about PayProTec please call 317-204-2650 or email us at indy(at)payprotec(dot)com.
About PayProTec
Founded in 2004, PayProTec is a leading integrated financial technology provider dedicated to providing simple, secure and state-of-the-art payment solutions for business owners of all sizes. They are a team comprised of inspired tech enthusiasts as well as service-minded entrepreneurs intent on ensuring that merchants of all shapes and sizes receive the payment solutions they all deserve.