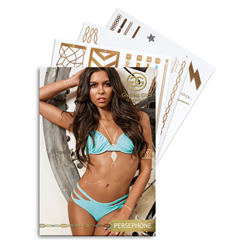 To me, unleashing your inner beauty and showing off a high level of self-confidence, that is the ultimate accessory.
Los Angeles, CA (PRWEB) August 05, 2015
Infinity Sun, the leader in salon quality sunless tanning machines and at-home products, is proud to announce the launch of Goddess Glitz, six unique, designer collections of luxurious, tattoo jewelry. Embodying the goddess archetypes from the Greek, Roman and Sumerian cultures, these tattoos will harness all the strength and power of your own goddess within.
Complementing any style – whether it is business attire or a little black dress – Goddess Glitz metallic tattoos are designed to enhance and maximize an Infinity Sun spray tan. Easily applicable to the skin, tattoos can be worn as jewelry including rings, necklaces, bracelets, etc., nail art and more, featuring tribal and fashionable designs, all available in a variety of bright and metallic colors. "When developing the concept of Goddess Glitz, I sought to find something that would make a woman feel powerful and privileged, just as the goddesses from ancient mythology would," says Veronique Munro, founder and CEO of Infinity Sun. "To me, unleashing your inner beauty and showing off a high level of self-confidence, that is the ultimate accessory."
The Goddess Glitz tattoo collection allows consumers to become acquainted with each of the goddesses, including: Inanna (Goddess of Love, War and Fertility), Persephonie (Queen of the Underworld), Eirene (Goddess of Peace and Diplomacy), Gaia (Primal Divinity), Juno (the youthful, maiden goddess) and Athena (Patron goddess of heroic endeavor). Additionally, 20% of profits from the Juno collection will be donated to the Best Friends Animal Rescue.
Goddess Glitz by Infinity Sun retails for $22.00-$25.00 (3 sheets/pack) and is available online via shop.infinitysun.com.
About Infinity Sun:
Infinity Sun specializes in salon quality sunless tanning machines (which have been featured on shows like Sunset Tan, Millionaire Matchmaker, and Dr. 90210) and recently launched an at-home line of sunless tanning and maintenance products.
Known as the "Celebrity Tanning Guru," creator Veronique Munro is a sunless tanning expert and an industry innovator. Knowledgeable about the science and chemistry behind each treatment, she has first-hand experience in developing tanning formulas and knows the tricks of the trade to yield the best tan possible. A trusted tanning resource, her celebrity clientele consists of, Britney Spears, Justin Bieber, Audrina Patridge, Giuliana Rancic, Sarah Hyland, Catherine Zeta Jones, Jennifer Aniston, Kaley Cuoco, Julie Bowen, Kym Johnson, Karina Smirnoff, Lacey Schwimmer (DWTS) Gisele Bundchen, Adrian Grenier, Kevin Connolly, Kevin Costner, Jessica Alba and many more.
Infinity Sun is available at upscale salons and spas worldwide including The Cosmopolitan Hotel, Mandalay Bay, LA Tans and 3,000 locations worldwide. For locations offering Infinity Sun, please call (323) 782-1049 or visit http://www.infinitysun.com.
###