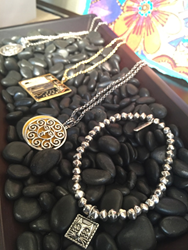 Los Angeles, CA (PRWEB) August 04, 2015
Laurel Burch's exquisite work continues with a new jewelry line debuting at Magic. The fashion industry's biggest tradeshow will be on August 17th-19th in Las Vegas, Nevada. Check out the latest designs at BOOTH 74351!
A prolific artist and global traveler, Laurel Burch found her greatest joy in offering her most precious and intimate works as inspiration to kindred spirits. Her portfolio of paintings and designs spans nearly 50 years and has brought wonder to a world of fans. From being featured in Vogue and Forbes to being sold at Macy's and Bloomingdale's, she led a life of creative success.
The five new Laurel Burch jewelry collections will be a reflection of her distinctive, expressive style. Her lifetime's worth of timeless artwork—from the 1960's in San Francisco to the renowned classics of her later years—will be represented in each and every piece, crafted with the same artisanship of her original lines. The collection will boast a gorgeous full torso necklace that features eccentric circles and whimsical lines as well as earrings that feature unique shapes and ornate detailing. Made from a pewter base plated with silver or gold, there will be many vibrant, eye-catching designs to choose from. A sterling silver collection will also be featured and the jewelry pieces will retail for $30 to $120.
For 20-year-old Laurel Burch, the streets of San Francisco offered a world of new possibilities. Her humble start began with crafting and selling earrings and necklaces made of beads, bones, and old coins. One of the first American designers to begin jewelry production in China, she was an innovator in art and in business. Today, Laurel's legacy thrives with the release of these amazing new collections that captures the romance and delight of the past, the present, and the renowned classics that she created.
Celebrate a lifetime of creative expression with Laurel Burch Jewelry.
For additional information, please visit http://www.laurelburchjewelry.com.
Or to schedule interviews, contact chelsea(at)chicexecs.com
Contact:
ChicExecs PR
http://www.chicexecs.com
1487 Poinsettia Ave. Ste. 125
Vista, CA 92081
310.569.6586
ChicExecs PR is an "out of the box" PR company which represents over 70 clients. ChicExecs has created an innovative approach to PR dedicated to helping small-medium businesses receive media coverage. Our revolutionary automated system is changing the face of PR. To learn more about ChicExecs visit http://www.chicexecs.com.