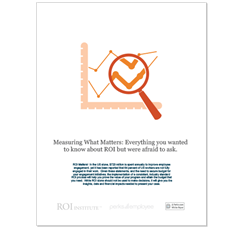 If you're not measuring ROI, then you're doing it wrong...no one can afford budget allocation for projects without ROI goals and plans. - Jeff Ford, Perks.com CEO
Little Rock, Arkansas (PRWEB) August 05, 2015
Perks, global provider of innovative rewards and recognition solutions, announces the release of its latest eBook "Measuring What Matters" which is now available in the Perks' online Resource Library.
This eBook outlines the ways in which company stakeholders can measure reward and recognition program results in a methodical, unbiased way according to ROI Institute methodology and best practices. With an array of step-by-step instructions, charts, formulas, and other resources, this eBook provides a robust outlet of applicable tools for your company to utilize when focusing on ROI and incentive program justification. Covered in this eBook will include the insights needed to build your ROI plan including but not limited to: identifying ROI drivers, making the case for ROI, and determining crucial next steps.
Perks.com CEO Jeff Ford explains the impact of ROI at the stakeholder level:
"If you're not measuring ROI, then you're doing it wrong. Startup or world renowned enterprise, no one can afford budget allocation for projects without ROI goals and plans. Constantly verifying and justifying that your program efforts are making a positive fiscal impact on your company is part of the formula for a successful organization."
To access Perks' eBook: Measuring What Matters click here.
About Perks
Founded in 2001, Perks' mission is to drive long-term, sustainable behavior change that supports the business goals of the enterprise. Perks.com provides global incentive programs that motivate, recognize and reward the people that matter most to your business. Through the thoughtful use of promotions, education, and incentives, Perks Enterprise Engagement engine helps achieve business success. Products, Services and Rewards modules are designed to provide the flexibility needed to customize programs based on individual business requirements. Dashboards and reporting show what's working and what's not, allowing instant adjustments. With a listing on the Salesforce AppExchange and a global user base exceeding 5 million users, Perks takes the guesswork out of loyalty and incentive programs. To learn more or to request a demo, visit Perks.com.