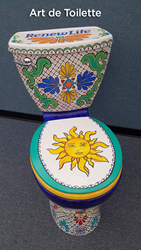 Nine teams participated in 'Arts de Toilettes' a toilet decorating contest created to bring visual interest to Renew Life's lobby.
Clearwater, FL (PRWEB) August 05, 2015
"Art de Toilettes"
It all began early this year when Renew Life CEO Ron Fugate invited employees to suggest ideas to add some fun and visual interest to the company lobby. Bonnie Cooper, Renew Life Vice President of Marketing, had the winning idea to transform toilets into works of art. Renew Life makes natural digestive care supplements including fiber, digestive aids and enzymes, internal cleansing programs, and Ultimate Flora™ probiotics sold in health food and mass retailers nationwide. Nine different teams produced artistic, visually stunning, tastefully funny, creative, and thought-provoking pieces. "At Renew Life, our specialty has always been '#2,' but today we're #1 for company fun," Cooper jested, as her team displayed their pirate-themed toilet, "The Krapen."
"We appreciate the efforts of Renew Life employees and wanted to create a fun, teambuilding experience for everyone to enjoy," stated Fugate. Themes for the artful toilets ranged from ancient times through high tech. Fugate, plus CFO Don Pollo and HR Director Roxanne Campbell served as judges and awarded each team a prize. "With so many incredible entries, it was simply impossible to pick one winner," the judges agreed.
Digestive Wellness, Naturally
For nearly two decades, Renew Life has been empowering people to elevate their quality of life through better digestive health. Renew Life formulates their digestive care supplements with superior-quality ingredients, and they stand behind the purity, potency, and efficacy of every product.
For additional information about Renew Life, please contact Bcooper(at)renewlife(dot)com