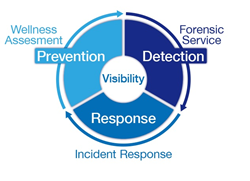 San Jose, CA (PRWEB) August 06, 2015
Soliton Inc. (Soliton), the Cyber Security Startup has launched InfoTrace Mark II, an innovative solution for Endpoint Detection and Response (EDR). InfoTrace Mark II will enable organizations worldwide to fight against targeted cyber attacks by delivering advanced detection, correlation and remediation capabilities from a single platform. This redesigned product improves upon the long history of Soliton Endpoint monitoring products by covering more than four hundred types of network, security, and IT devices with deeper access to kernel mode activity.
With networks under constant barrage, the goal of the intruder remains the same. The Endpoint remains the system of choice that will allow attackers to establish their base of operations and further erode your existing security infrastructure. Everything leaves a trace that is why InfoTrace is the premier solution to help defend against cyber attacks of all skill level.
Great Products Require Great Teams
Soliton is pleased to announce the addition of two Leading Experts in the field of Incident Response, Forensics, Malware Analysis and eDiscovery to our U.S. Headquarters in Silicon Valley.
Jim Butterworth joins Soliton as Chief Technology Officer. Jim brings over two decades of experience in the advanced technology development of digital detection systems ranging from military and commercial defensive solutions. Jim is an expert in Cybersecurity attack methodology, having served previously at ManTech International and Guidance Software. During his previous tenure, Jim was deeply involved in several of the most highly publicized breaches worldwide. His knowledge, reminiscent of trench style cyber warfare, will ensure Soliton products remain the benchmark upon which all other solutions are compared.
Mike Fowler joins Soliton as Vice President of Professional Services. Mike began his career in Law Enforcement and has spent close to two decades in the digital forensics and incident response investigative arenas. In addition, he spent 13 years as a Senior Director of Training for a world leader of forensics and helped shape the instruction and investigative methodologies provided to thousands of cyber crime investigators globally. Mike's focus on providing real world, common sense approaches to incident mitigation and response make him a favored speaker at national and international conferences.
About Soliton
Soliton is a San Jose-based cyber security group of Soliton Systems, Inc. . It specializes in Cyber Security Investigations with its proprietary end point tool. Soliton is committed to resolve computer security events ranging from single system compromises to enterprise-wide intrusions by advanced attack groups that span hundreds of thousands of systems.
For more information, please visit http://www.solitoncyber.com
Contact
To learn more about this release, please contact
Jim Butterworth, CTO
2635 1st St Suite 213, San Jose, CA 95134
(408) 434-1923
info(at)solitoncyber(dot)com
###