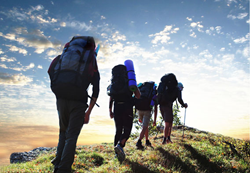 "By removing negative distractions from a teen's life, you're allowing them to grow as a person," says Jon Worbets MA LCPC, therapist and co-founder of blueFire Wilderness.
Boise, ID (PRWEB) August 05, 2015
blueFire Wilderness, a leading wilderness therapy program for teens 11 – 17, participated in Simplify Your Life Week by helping teens remove damaging behaviors and distractions from their lives. blueFire Wilderness recognizes the importance of simplifying aspects of an individual's life in order to improve well being.
A 2015 study conducted by researchers at Michigan State University found that children who experience high levels of anxiety and stress before the age of 16 are more likely to gain weight than young people who experience minimal stress. This study demonstrates that simplifying the lives of teens is extremely important for their long term health.
By taking step to simplify aspects of your life, teens can remove negative distractions and stress from your life. blueFire wilderness advises teens to simplify:
-Possessions: Donate unneeded clothes and electronics. Having too many material possessions can distract from the things that really matter in life, such as family and friends.
-Negative thoughts: Negative feelings lead to nowhere. That's why it's important to remove feelings of bitterness, hate, and jealousy.
-Screen time: Only use phones and computers when you need them. Instead of being online and on the phone all the time, spend more time with close friends and family, face to face. This eliminates digital distractions and helps build tighter bonds.
-Daily schedule: Follow a daily routine. Instead of not knowing what each day will bring, have some predictability.
-Relationships: End all toxic relationships. These relationships only drain energy and cause negative distractions and stress.
"By removing negative distractions from a teen's life, you're allowing them to grow as a person. When our clients are out in the wilderness, there is absolutely nothing to distract them. It's just them, their guide, and Mother Nature. They have time to focus on themselves and make changes in their lives," says Jon Worbets MA LCPC, therapist and co-founder of blueFire Wilderness.
blueFire's wilderness program is designed for teens with emotional and behavioral issues such as depression, anxiety, eating issues, trauma, and substance abuse. At blueFire, teens are taken into the wilderness and away from the comforts of everyday life.
By removing all negative distractions, such as social media and most material possessions, teens learn to live simply. This simple life allows them to form close relationships with their peers and counselors. It also helps teens focus on the struggles they are dealing with and allows them to gain life skills they would not have experienced outside of the simplicity of the wilderness.
At blueFire wilderness, teens aren't the only ones who have the opportunity to simplify their lives. When parents come for the Family Spark workshop, a four day family therapeutic experience, they reconnect with their children while removing distractions such as smart phones.
"Recently, at the conclusion of our Family Spark workshop, many parents commented that they were going to delay turning on their smart phones until they were at the airport awaiting their flights home," commented Kathy Rex CTRS, Executive Director and co-founder of blueFire Wilderness. "This speaks highly of their desire to stay in the moment, relishing their simplified experiences of connecting with their teens for four, uninterrupted days before returning to the barrage of life's busy-ness."
_______________________________________________________
BlueFire Wilderness is a wilderness therapy program based just outside of Boise, Idaho that offers teens ages 11-17 a comprehensive adventure experience. BlueFire Wilderness combines clinical expertise, academic assessments and a family systems approach to help teens struggling emotional, behavioral and social challenges. For more information, please call 1 (844) 413-1999.