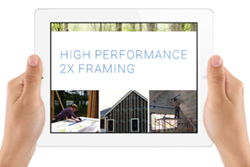 475 is trying to steer the tanker ship of US construction in a greener direction.
New York City (PRWEB) August 05, 2015
With the announcement of a new ebook release online this week, Brooklyn-based 475 High Performance Building Supply (475) is offering building professionals a new tool to transform the common 2x4 framed wall. This spin on traditional construction creates high performance enclosures that affordably deliver the highest levels of comfort, energy efficiency, and longevity.
Using two- and three-dimensional sketches, along with real world photos and advice, the ebook provides a guide to cutting energy costs by focusing on airtightness. As states impose stricter energy codes, jurisdictions nationwide have begun recognizing and mandating greater levels of airtightness. Airtight walls can be up to five times more energy efficient compared with similarly insulated, but leaky, walls. Equipped with airtight details, architects and builders can aim far beyond current energy benchmarks. Just as Moore's Law for computer processors has demonstrated efficiency increases for progressively less money, today's enclosures can add value in the form of comfort, energy efficiency, and resilience, for less cost through airtightness.
High Performance 2x Framing is accompanied by a downloadable CAD drawing file containing all the details illustrated in the ebook, allowing professionals to directly copy and customize to particular project needs. 475 Co-Founder, Ken Levenson, an architect by trade said, "It is core to our business to spread information that will make a difference. Much more than a supply house, 475 is trying to steer the tanker ship of US construction in a greener direction. We can make our contribution by behaving like a business in the information age should: by making valuable and transformative information free."
High Performance 2x Framing is the third in a series of construction detail ebooks covering a variety of construction types. Each release will rewrite conventional building details to accommodate for super-insulated, air sealed, and foam-free building in an effort to be more ecologically sound. Eliminating the use of fossil fuel-based components such as spray foam and polystyrene from construction is a major goal for 475, and an essential step to creating the greenest buildings possible.
High Performance 2x Framing can be downloaded for free from foursevenfive.com. Hardcopies are available for pre-order with release set for late summer 2015.