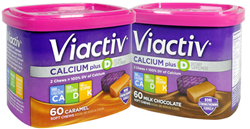 With this unique partnership, Viactiv is bucking the trend in the calcium category by shifting the focus from only talking to pre-menopausal/menopausal women, and instead, speaking directly to the next generation of calcium users.
Greenwich, CT (PRWEB) August 05, 2015
The topic of calcium deficiency often doesn't arise until menopause and the potential risk of osteoporosis are on the horizon; however, teen girls need the most calcium of all women – 1300 mg daily – and a large majority of these young girls are not meeting this important requirement. To bring awareness of this issue to active, health-conscious teens, Viactiv®, the #1 doctor-recommended calcium supplement chew and Varsity Spirit, the leader in cheerleading and dance team education, have teamed up to educate young women on why calcium intake today is so important for bones later in life, including easy ways to get their daily requirement from delicious Viactiv calcium soft chews to low fat yogurt smoothies, fortified orange juice and more.
"Varsity Spirit's partnership with Viactiv is the optimal platform for the brand to speak to a large segment of active, young women who care about health and fitness, yet may not be aware that their diets are lacking in critical nutrients and supplements," says Marlene Cota, Vice President of Corporate Alliances for Varsity Brands, headquartered in Memphis, Tennessee.
"With this unique partnership, Viactiv is bucking the trend in the calcium category by shifting the focus from only talking to pre-menopausal/menopausal women, and instead, speaking directly to the next generation of calcium users," says David Claroni, VP of Sales and Operations at Viactiv. "At the same time, we also will be connecting with their mothers who, at an average age of 40+, are approaching the second most important age group for calcium supplementation. It's something that teen girls and their moms can focus on together and Viactiv is here to help supplement when daily diet falls short."
As part of the Viactiv/Varsity Spirit partnership which launches this month nationwide at their summer camp programs more than 320,000 women-- from cheer/dance campers to peer counselors/coaches and spectators (often their parents)-- will learn about the important role of calcium, and receive Viactiv samples including coupons.
In addition, Viactiv will appear in full-page ads and editorial features throughout American Cheerleader magazine, which is read by more than 300,000 active cheerleaders and dance team members, coaches, parents and fans nationwide. Features will promote the #TeamBeActivSweeps on Instagram to launch Viactiv's new Instagram channel (Instagram.com/Viactiv). Five winners will have their team photos featured in American Cheerleader magazine and receive $500 in team fundraising grants from Viactiv.
Teen calcium deficiency comes at a critical time when their bone mass is developing, reaching peak bone mass by age 20. Because many teens are starting at too low of a place due to lack of calcium in their diets, they're already at a disadvantage for not banking enough for the long term.
"At Varsity Spirit we're always promoting a healthy and active lifestyle, so it was a natural fit," adds Cota, "Varsity Spirit's commitment to Viactiv through 2015 will allow for young girls to be educated through their coaches and camp instructors, so the messaging resonates and leaves a lasting impact throughout bone building years."
About Viactiv:
Viactiv Calcium Soft Chews, available in milk chocolate and caramel, makes fulfilling the calcium needs of young women easy and enjoyable. Just two chews daily provide most women with 100% of their calcium needs. Viactiv Calcium Soft Chews are sold at major retailers nationwide, including CVS, Rite Aid, Target, Walgreens and Walmart, as well as online at http://www.drugstore.com. To learn more about daily calcium needs and the role of calcium, visit Viactiv.com and LIKE Viactiv on Facebook for offers. To learn more about the Viactiv's Varsity photo sweeps contest, follow Viactiv on Instagram at Instagram.com/Viactiv.
About Varsity Spirit:
Memphis-based Varsity Spirit has been a driving force behind cheerleading's dynamic transformation into the high-energy, athletic activity it is today, and the leading global source for all things cheerleading and dance. A division of Varsity Brands, Varsity Spirit is a leader in uniform innovation and educational camps, clinics and competitions, of which more than 350,000 cheerleaders and dancers attend each year. Focused on safety, entertainment and traditional school leadership, Varsity Spirit's 1,200 employees have been helping raise cheerleading's influence and profile since 1974. For more information about Varsity Spirit or Varsity Brands, please visit http://www.varsity.com or http://www.varsitybrands.com.
*PDF Downloaded from jn.nutrition.org at STANFORD UNIVERSITY MEDICAL CNTR, on November 11, 2013