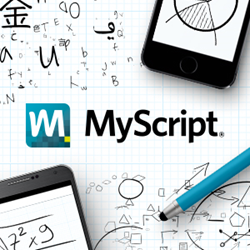 With this app challenge, we are empowering developers to extend the traditional user experience with the inclusion of our industry-leading APIs.
NEW YORK, NEW YORK AND NANTES, FRANCE (PRWEB) August 05, 2015
MyScript® is pleased to announce the MyScript App Challenge, an online hackathon for developers. Participants are invited to build applications that demonstrate practical and innovative use cases where handwriting technology can be leveraged to great advantage for the end user. The competition will award $20,000 in prizes to contest participants.
For this global competition, developers are invited to create an app using APIs available in the MyScript Cloud Development Kit (CDK) or Application Toolkit (ATK). These tools are available free of charge for non-commercial use on the MyScript Developer Program web site at http://dev.myscript.com. Utilizing the MyScript APIs, developers can combine in one application the use of multiple handwriting recognition engines including text, math, shape, and music.
"At MyScript, we continually push the boundaries of what digital ink technology can do to enhance the way we interact with devices," said Gary Baum, VP of Marketing at MyScript. "With this app challenge, we are empowering developers to extend the traditional user experience with the inclusion of our industry-leading APIs. We are motivated to see what new approaches developers will create with handwriting recognition technology, be it an app for education, a game, a new productivity tool, or even a new use case not previously envisioned."
Application submissions will be judged on four main criteria including effective use of the MyScript APIs, app design, utility of use case demonstrated by the app, and innovation in the use of handwriting recognition. The competition will be judged by a panel of industry experts. The grand prize winner will receive $10,000. First runner up will receive $5000 and second runner up $3000. MyScript will also host a popular vote whereby the public can vote for their favorite submission. The winner will receive $2000.
The MyScript App Challenge is hosted on Devpost and submissions are now open. For more information regarding rules and eligibility, visit http://myscript.devpost.com.
About MyScript®
MyScript is the acknowledged market leader in accurate, high-performance handwriting recognition and digital ink management technology. MyScript technology combines digital ink management with easy searching of handwritten text, as well as the accurate recognition of complex mathematical equations, geometric shapes and music notation. MyScript solutions are available on all leading desktop and mobile operating systems including Microsoft® Windows®, Apple® Mac OS®, Linux®, iOS® and Android™. With nearly 100 languages supported and a truly international team, MyScript serves customers worldwide from its headquarters in Nantes, France, and regional offices located in China, Japan, Korea, and the U.S. For further information, please visit http://myscript.com.
#########
MyScript is a registered trademark, registered in the US and other countries. All the other trademarks are the property of their respective owners. Microsoft and Windows are registered trademarks of Microsoft Corporation in the United States and/or other countries. Apple and Mac OS are registered trademarks of Apple, Inc., registered in the U.S. and other countries. IOS is a trademark or registered trademark of Cisco in the U.S. and other countries and is used under license. Linux is the registered trademark of Linus Torvalds in the U.S. and other countries. Android is a trademark of Google Inc.