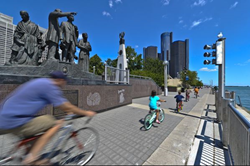 Detroit has been working really hard, and they are going to do a great job showcasing the city. -John H. Graham, IV, FASAE, CAE, President & CEO, ASAE
Troy, MI (PRWEB) August 06, 2015
This weekend, August 8-11, thousands of association executives, industry partners and thought leaders will be flocking to Detroit for the Super Bowl of Conventions, otherwise known as the ASAE Annual Meeting & Exposition. This year it is anticipated that 5,000+ attendees will be coming from across the country for three full days of powerful networking, thought-provoking education sessions, and innovative business solutions. "ASAE is really excited about the Annual Meeting & Exposition in Detroit this week. Detroit has been working really hard, and they are going to do a great job showcasing the city. Our members are going to love the newly renovated COBO and everything it has to offer as a possible future meeting location for their organizations," said ASAE President and CEO John H. Graham, IV, FASAE, CAE.
Billhighway is a growing financial technology company that brings energy and innovation to the heart of metro Detroit. At the event, participants can stop by booth 525 for a demonstration of how Billhighway's cloud-based accounting software can integrate with their back-office to create an automated solution for their organization. They will also be unveiling their automation white paper centered on how associations can harness the power of automation to improve productivity. In honor of the event taking place in their backyard, Billhighway plans to offer participants a treat that was founded in the city to expose first-timers to the great gems in Detroit.
Festivities kicked off early for Billhighway by offering up guest spots on their blog to fellow exhibitors. eXos by OSIbeyond L.L.C. (booth 322) shared, "Cloud Vendor Selection Matrix for Associations," which aids in assessing the most qualified cloud vendor based on ten core criteria from industry leading research. eXos was developed by OSIbeyond, a Managed IT Service Provider, and provides end to end cloud solutions through a simplified model known as Everything as a Service (XaaS) for the nonprofit and association community.
A post by Unleashed Technologies (booth 132) on the current trends and advances in technology and how organizations can wield that to work faster, engage a wider audience, and advance their mission will go live later in the week. Unleashed Technologies are Drupal experts focused on helping member-driven associations unleash their potential with their Wosting (web and hosting) platform.
For anyone new to Detroit, Michigan was just ranked #1 in Thrillist's list of all fifty states. Not to mention, sixty-seven of Michigan restaurants have been recognized for their wine programs in Wine Spectator's newly-released list of Restaurant Wine List Awards. This is stacking up to be one great event, not to be missed.
About Billhighway (http://www.billhighway.co)
Billhighway, headquartered in Troy, Michigan, develops cloud-based automation software that makes nonprofit financial management easier. Since 1999, we've helped our clients free up internal resources and focus more time on mission by increasing revenue, cash flow and the bottom line. Through a robust, rules-based engine that integrates payment processing, banking and accounting with existing systems, Billhighway provides a transparent, holistic view of your organization's finances so you can work smarter, not harder. Billhighway is recognized for award-winning customer service and industry-leading data security.
About ASAE (http://www.asaecenter.org)
The American Society of Association Executives is the membership organization and voice of the association profession. ASAE represents more than 21,000 association executives and industry partners representing more than 9,300 organizations. Their members manage leading trade associations, individual membership societies and voluntary organizations across the United States and in nearly 50 countries around the world. With support of the ASAE Foundation, a separate nonprofit entity, ASAE is the premier source of learning, knowledge and future-oriented research for the association and nonprofit profession, and provides resources, education, ideas and advocacy to enhance the power and performance of the association and nonprofit community.