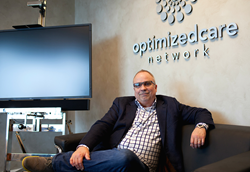 Columbus, Ohio (PRWEB) August 05, 2015
Optimized Care Network (OCN) will join providers in the retail health industry to discuss ways to expand access to healthcare and provide more patient choice during the first-ever Convenient Healthcare and Pharmacy Collaborative, Aug. 6-7.
Brian Slusser, CEO of OCN, will speak on a panel about the challenges confronting retail clinics, how to expand their role and future trends in the industry at the Convenient Healthcare Executive & Leadership Symposium on Aug. 6. The conference, held in Kissimmee, FL., is the first of its kind to bring together nurse practitioners, physician assistants and pharmacists in a classroom setting to collaborate on how retail clinics can improve access to healthcare.
"I'm thrilled to meet with other industry leaders and discuss how to make it as affordable and convenient as possible for patients to get the care they need," said Slusser. "Optimized Care Network is built on the idea that patients should be able to connect with the most qualified medical experts no matter where they are located. I'm looking forward to sharing our unique solution and collaborating with other influencers in the field on advancing care delivery."
As the healthcare industry works toward expanding care options for patients, retail clinics are gaining popularity. According to a report from the Robert Wood Johnson Foundation and Manatt Health Solutions, more than 1,800 retail clinics are seeing 10.5 million visits annually. Over half of U.S. families who have used a retail clinic in the last year said it was because the hours were more convenient than a traditional healthcare facility, according to the report.
"This upcoming collaborative conference is an unprecedented opportunity for professionals within the retail-care industry," said Tine Hansen-Turton, Executive Director of the Convenient Care Association. "By bringing together physician assistants, nurse practitioners and pharmacists to network and discuss best practices, the conference will help forge new partnerships among providers, further innovating the industry and leading to better, more accessible, affordable, quality care for patients everywhere."
For more information on the conference agenda, visit: https://www.pharmacytimes.org/chpc15.
###
About Optimized Care Network:
The Optimized Care Network (OCN) is a leading provider of digital health care that merges high tech with high touch. OCN's one-of-a-kind technology enables medical providers to digitally connect with patients in a life-like manner that is changing the delivery of medicine via non-traditional sites of care. Their highly equipped digital exam room, which includes a specially trained nurse, is the 21st century model for digital healthcare with a personal touch.
For more information: http://www.optimizedcare.net/#press
Facebook: https://www.facebook.com/OptimizedCareNetwork
Twitter: @OptimizedCare
LinkedIn: https://www.linkedin.com/company/optimized-care-network
About Convenient Care Association:
Convenient Care Association is the national trade association of companies and healthcare systems that provide consumers with accessible, affordable, quality healthcare in retail-based locations. CCA works primarily to enhance and sustain the growth of the Convenient Care industry through sharing resources, best practices and common standards of operation.
About Pharmacy Times:
Pharmacy Times is the industry's leading media resource, providing practical clinical information pharmacists can use in their everyday practices when counseling patients and interacting with physicians. Each issue contains articles and features covering medication errors, drug interactions, patient education, pharmacy technology, disease state management, patient counseling, product news, pharmacy law and specialty pharmacy. The Pharmacy Times Office of Continuing Professional Education is accredited by the Accreditation Council for Pharmacy Education as a provider of continuing pharmacy education.
Learn more at http://www.PharmacyTimes.com, write to info(at)pharmacytimes(dot)com, call 609-716-7777 or visit the Pharmacy Times on Facebook or Twitter. Pharmacy Times is published by Michael J. Hennessy Associates, Inc., a leading provider of healthcare media resources, research, information and education.