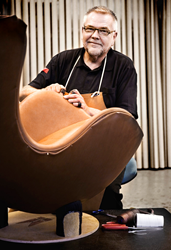 "When you have the opportunity to watch a maker at work, it changes your understanding and appreciation for the craftsmanship and tradition that goes into each product," says DWR CEO John Edelman.
Stamford, CT (PRWEB) August 05, 2015
Design Within Reach and Fritz Hansen today announce a series of national events in five U.S. cities, over the course of eight days focusing on the legacy of Arne Jacobsen (1902–1971) and the tradition and craftsmanship behind two of his greatest chairs: the Series 7™ and Egg™.
2015 marks the 60th Anniversary of the Series 7™ chairs, designed by Jacobsen and produced by Fritz Hansen in 1955, and to salute the occasion guests will learn about the life and work of Jacobsen and have a chance to win four Series 7 chairs in a special drawing. Additionally, attendees will be the first to preview the new DWR exclusive-Egg Chair produced by Fritz Hansen. Available in two unique finishes, using Basel fabrics designed by Herzog & de Meuron from Kvadrat and finished with Sorensen leather piping and matching lacquered bases, the exclusive Egg Chair officially launches in September at Design Within Reach.
Included in the product sneak peek, Fritz Hansen is flying in Master Upholsterer Hans Mannerhagen from Denmark to sew and finish the special-edition Egg Chair over the course of the night. Mannerhagen has worked for Fritz Hansen in Denmark since 1998 and is valued as an expert upholsterer whose craftsmanship exemplifies the authenticity treasured by his company and DWR alike.
"We are thrilled to partner with Fritz Hansen on this series of events celebrating authentic Danish design and the life of Arne Jacobsen," says DWR CEO John Edelman. "It's really special to have their master upholsterer working live in our Studios for all to see. When you have the opportunity to watch a maker at work, it changes your understanding and appreciation for the craftsmanship and tradition that goes into each product."
"Fritz Hansen and Design Within Reach have a successful, longstanding partnership," says Henrik Hjorth, Vice President, Fritz Hansen Inc., North and South America. "We are excited that our latest collaboration focuses on one of the most iconic furniture designs produced – the Egg Chair, by renowned Danish architect and designer Arne Jacobsen."
The series kicks-off mid-August and is as follows:
August 11: DWR Miami Studio
August 12: DWR Chicago Studio
August 13: DWR E.57th St. Studio
August 18: West Hollywood Studio
August 19: San Francisco Studio
For more information and to attend, visit http://www.dwr.com/studios.
About Design Within Reach
Design Within Reach, Inc., founded in 1998 and headquartered in Stamford, Connecticut, is the world's largest retailer of authentic modern design. The company sells its furniture and accessories to residential and commercial customers through retail Studios in North America, through the Web at dwr.com, by phone at 1.800.944.2233 and through the Contract division at dwrcontract.com.
About Fritz Hansen
Founded in 1872 in Denmark, Fritz Hansen is one of the world's most recognizable producers of iconic furniture for public and private spaces. The history of the company is characterized by meticulous craftsmanship, unique design and a sense of understated elegance. Leading architects and furniture designers from all over the world have produced timeless furniture for the company's collection, which embraces innovative techniques and new materials. Contributors include legendary designers such as Arne Jacobsen, Poul Kjaerholm, Bruno Mathsson, Piet Hein, and Piero Lissoni as well as young innovators like Kasper Salto, Jaime Hayon and Todd Bracher.
Today Fritz Hansen furniture is embraced by a range of global consumers from city dwellers to business executives who celebrate the company's ability to enlighten and delight with design. Fritz Hansen products can be seen around the world in residences and high-profile corporations, luxury hotels and art centers including the famed SAS Royal Hotel in Copenhagen and the Museum of Modern Art (MoMA) in New York.
For additional images and information, contact Kim Phillips at pr(at)dwr(dot)com.