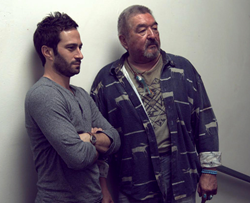 Los Angeles, CA (PRWEB) August 06, 2015
Academy Award nominee and Canadian icon Graham Greene (Dances with Wolves, The Green Mile) is set to join Hollywood legend Timothy Bottoms (The Last Picture Show, The Paper Chase) in the cast of Howling Wolf Production's newest horror / thriller feature, TAR. In the murky depths of Los Angeles' world-famous La Brea Tar Pit there lies an ancient secret - a creature that, awakened by underground construction, turns a night of somber packing for Barry Greenwood (Bottoms), his son and their co-workers into a desperate fight for survival. Greene adds his talents as a mysterious figure with knowledge from his past that ultimately could mean the difference between survival and a gruesome demise.
Directed by and starring award-winning filmmaker Aaron Wolf as Bottom's onscreen son, TAR also costars Emily Peachey, as a follow-up to her performance in the 2014 break-out hit The Fault in Our Stars, Nicole Shipley (Guardians of the Galaxy) and Stu Stone (Donnie Darko). Howling Wolf Productions principal Tim Nuttall executive produced as well as co-wrote the screenplay with Wolf.
About Howling Wolf Productions
Founded by principals Aaron Wolf and Tim Nuttall, HWP is a full-service production company that prides itself on telling stories. These stories take all forms, from award-winning films, to inspirational documentaries, to educational videos shot on multiple continents, to commercials and music videos. Howling Wolf Productions' projects have featured award-winning talent like Peter Riegert, Michael Gross, Natasha Lyonne as well as segments and promos with Harrison Ford and Kobe Bryant, a documentary for DreamWorks Animation and a feature documentary on the monumental restoration of the historic Wilshire Boulevard Temple in Los Angeles entitled Restoring Tomorrow.
For more information about TAR visit: http://www.tarthemovie.com