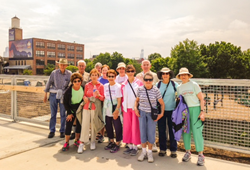 "I was delighted to see how they built the paths where the old railroad tracks were and how available they are to young parents and children." Sedgebrook resident and lifelong walker Lenore Greenstein
Chicago, IL (PRWEB) August 05, 2015
The June 6 opening of Chicago's new elevated trail, the 606, has been getting a lot of press in recent months. The news didn't escape the notice of a group of walkers at Sedgebrook senior living community in Lincolnshire. Known as the Trailblazers, these robust hikers hit the road twice a week in Lake County's nearby forest preserves and twice per month to more distant places. When they read about the 606 on Chicago's Northwest Side, they wanted to experience it for themselves.
Reinvented from a defunct freight line into 2.7 miles of bike and walking trails and six parks, the 606 (named for Chicago's zip codes) brings open green spaces to the previously austere Wicker Park, Bucktown, Humboldt Park, and Logan Square neighborhoods. Though it wasn't intended to be, the 606 was the Trailblazers' first trip of the season, according to Sedgebrook fitness specialist Jackie Nitsche. "I thought we could wait awhile, but the group was determined to walk it as soon as possible. Some of them remember what the area looked like 50 years ago and were in awe of what they saw." A firm believer in the holistic benefits of exercise for mind, body and soul, Nitsche enjoys the Trailblazers' journeys as much as they do. "I was excited to visit the 606, especially because I live in Chicago."
Said Sedgebrook resident and lifelong walker Lenore Greenstein, "I was delighted to see how they built the paths where the old railroad tracks were and how available they are to young parents and children." Greenstein, who has been a member of the Trailblazers since its inception, has been walking for exercise all her life. "It's a must-do for me to get through the day. I'm 76 years old; thank God I feel good enough!" Greenstein enjoys the less tangible benefits of the group as well. "The camaraderie we have by getting out and doing something, sharing new experiences, and having fun makes us a family."
Gerry Murrow, a nine-year Sedgebrook resident, was impressed by the 606's literal overview of an area she hadn't seen in decades. She also appreciated the rubberized paths on each side of the trail. "I had one knee replaced, and I can't ride a bike anymore. The path allows for some very safe and comfortable walking." It was Murrow who suggested the establishment of a walking group at the senior community, and she was also instrumental in encouraging the Trailblazers to venture farther out via Sedgebrook's bus accommodations. Since the trip on the 606, the walkers have visited the Chicago Botanic Gardens and the city's lakefront, and several more excursions are on this season's agenda. "We can go to other forest preserves by bus as well," said Murrow.
While buzz about the 606 continues, the Trailblazers are already looking forward to their next trip to the city's new public gem. "It would be nice to see it in the fall," said Greenstein. "I'd walk it every week if I could!"
Sedgebrook is a continuing care retirement community (CCRC) offering a diverse lifestyle, maintenance-free living and outstanding amenities. Five-star rated Radford Green Health Care and Rehabilitation is located on the 92-acre Sedgebrook campus in Lincolnshire, Illinois. Sedgebrook is owned by Senior Care Development LLC and managed by Life Care Services LLC. For additional information visit http://www.WelcomeToSedgebrook.com or call 847-901-3319.