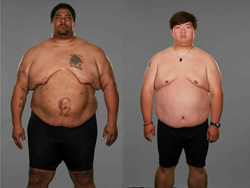 For one man, the effort to transform is too much and he's asked to leave the TV show. For the other, this is his chance to shine with a record-setting transformation.
Aurora, Colo. (PRWEB) August 06, 2015
The upcoming episode of "Extreme Weight Loss" Season 5, features the transformation efforts of two men: John (531 pounds, Baltimore, MD) and Dan, better known as "Panda" (313 pounds, Grand Rapids, MI). One will set an "Extreme Weight Loss" record for losing the most weight by any cast member during the 90-day boot camp portion of the show. The other will be asked to leave when the effort to transform proves to be too much.
John and Panda's extremely different weight loss experiences will be documented on one episode of "Extreme Weight Loss," airing Tuesday, Aug. 11 (9:00-11:00 p.m., ET/PT) on ABC.
John is a former pro football player and Army veteran who wants to lose weight before he meets the son he never knew he had. As a young man, John was praised for his large size and stature. However, his weight may have been a factor in the injuries that cut short his career with the Arena Football League. Today, John is a nurse in a Veteran's Affairs (VA) hospital and is preparing to meet his 21-year-old son for the first time.
Panda is a camp counselor of Korean descent who's struggled to fit in with his adoptive American family. Growing up, Panda turned to food to help him cope when he was bullied at school for being both overweight and gay. His mission today, as a camp counselor, is to help children who also feel like outcasts.
There will be two dramatic conclusions in this episode, as one of these two men will successfully complete his transformation journey, while the other will drop out early.
"Extreme Weight Loss" returns to the University of Colorado Anschutz Health and Wellness Center for Season 5. This is where cast members will again spend the first 90 days of his or her weight loss journey. Holly Wyatt, MD, medical director for the CU Anschutz Health and Wellness Center, also serves as medical director for the television program. She's affectionately known as "Dr. Holly" to the cast members and is seen on the show each week helping participants safely lose up to half of their body weight.
At the end of this episode, one of the men will continue the tradition of "paying it forward" by giving a friend or family member the opportunity to transform his or her life. The CU Anschutz Health and Wellness Center will provide the designee a place at the one-week, evidence-based Extreme Weight Loss: Destination Boot Camp transformation program.
Extreme Weight Loss: Destination Boot Camp was inspired by Wyatt's participation in the TV show. She designed the boot camp to provide participants with the tools they need to complete their own successful weight loss transformations— without the TV cameras. Limited space is available in upcoming boot camps and weight loss seekers are encouraged to learn more and register now.
The CU Anschutz Health and Wellness Center is recognized as a global leader in the fight against obesity. It offers some of the country's most advanced research and science-based expertise, focusing on a comprehensive weight loss and weight management approach, including fitness, nutrition and wellness services. Follow AnschutzWell on Facebook and Twitter.
"Extreme Weight Loss" is produced by 3 Ball Entertainment. JD Roth, Todd A. Nelson, Matt Assmus and Brant Pinvidic are the executive producers.