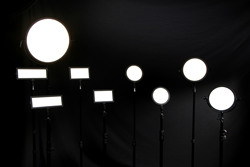 We're particularly proud of the design of the FlapJack LED Edgelights, and when our customers told us they wanted these in bi-color, we listened.
Waukegan, IL (PRWEB) August 05, 2015
Fotodiox Pro, creator and distributor of several lines of specialty LED lighting solutions for videography, cinematography and photography, has announced five new bi-color models of its innovative FlapJack LED Edgelight series. A perfect solution for filling in shadows, giving glamour portraits a beautiful glow or expertly lighting run-and-gun video shoots, the five newest models of bi-color FlapJack LED Edgelights have a fully adjustable color temperature between 3200K and 5500K.
"The world of imaging is in constant flux, and it's our goal to continually improve our ideas," said Bohuš Blahut, filmmaker and marketing director for Fotodiox. "We're particularly proud of the design of the FlapJack LED Edgelights, and when our customers told us they wanted these in bi-color, we listened. We also heard our customers' desire for a softlight that is powerful enough for studio applications but is still ultra-portable, so we've taken the extra step of creating the FlapJack Studio. Now with nine different models of FlapJack, photographers and filmmakers have access to the most versatile and portable photo and video lighting tools in the industry today."
Known for their remarkably thin structure and edge-mounted LEDs that aim inward at a diffusion disc, the FlapJack LED Edgelights produce a soft, flattering glow that perfectly augments any shooting scenario – in-studio, on-site or on-the-go. Each light ships ready for use right out of the box, with a fitted case and full set of power and mounting accessories. Plus, their aluminum construction and portable size makes them a lightweight and durable source of illumination that easily mount to light stands, tabletop tripods, light clamps, or even a camera's accessory shoe.
The new 18" FlapJack Studio is ideal for shooters seeking a powerful softlight for larger spaces that can also quickly pack down for travel. The bi-color Flapjack Studio is the most luminous FlapJack yet, while still producing the same soft, flattering light that is easy on a subject's eyes. Like other FlapJack models, the Studio is only 1 cm thick and can operate wirelessly with the included dual Sony NP-F style batteries or with AC power with the included adapter. There is also a Sony V-Lock battery plate for additional powering options.
Pricing & Availability
Each model of single-color and bi-color FlapJack LED Edgelight comes complete with a lithium-ion battery, battery charger, AC adapter, car adapter and mounting ballhead – all in a fitted case with a handle. Both the daylight and new bi-color models are available immediately at the following prices:

5" x 8" square – C-200S – daylight kit - $179.95
5" x 8" square – C-218AS – bi-color kit - $209.95
4" x 11" rectangle - C-200L – daylight kit - $199.95
4" x 11" rectangle - C-208AS – bi-color kit - $229.95
7" circle - C-200R – daylight kit - $229.95
7" circle - C-200RS – bi-color kit - $259.95
10" circle – C-300R – daylight kit - $299.95
10" circle – C-300RS – bi-color kit - $329.95
FlapJack Studio - 18" circle – C-700RSV – bi-color kit - $699.95
For a limited time, Fotodiox is offering the entire compact FlapJack line at 20% off retail prices, and $100 off of the FlapJack Studio's retail price. Offer expires midnight CST August 15th, 2015.
Fotodiox is also offering a giveaway to win a C-300RS 10" circular bi-color FlapJack. Anyone can enter by sending an email to FlapJack@fotodiox.com with "FlapJack me!" in the subject line by August 10th. The winner will be selected randomly and notified by email on August 11th.
To learn more about the FlapJack LED Edgelights, their components or additional photography and videography accessories, please visit FotodioxPro.com.
About Fotodiox Pro
Serving the photo and video markets since 2004, Fotodiox Pro is a leading manufacturer and distributor of high-quality, professional and affordable photography and videography accessories. Fotodiox Pro is known for its ND Throttle adapters, WonderPana mounts and accessories, Vizelex line of high-end camera systems and adapters, and ever expanding line of award-winning GoTough accessories for GoPro cameras. The company also markets a full line of specialty lighting equipment, including LED light panels, flash strobes and wedding photography kits, daylight fluorescent lighting, tungsten lighting and video lighting kits, the innovative FlapJack LED Edgelights and the award-winning LED-100WA. For more information about Fotodiox Pro, please visit fotodioxpro.com, youtube.com/user/FotodioxInc, facebook.com/Fotodiox and twitter.com/Fotodiox.